1980-81 Volunteer Extraordinaire
Mrs. Edith McAllister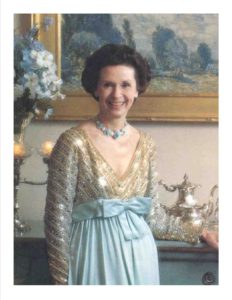 It is difficult to name any major aspect of San Antonio's civic life in which our Volunteer Extraordinaire for 1981 has not been closely involved.
Edith McAllister, in fact, has been called "Mrs. Everything."  She is the most active woman most of us have ever known.
In an extensive career in energetic public service for this city, Edith McAllister has missed but one major event — her 1951Junior League Provisional Tea – and that was because she had been taken to the hospital for an emergency appendectomy.
Her life, she says, is a "series of one-time events." That's because she has undertaken so many projects, she doesn't have time for too many on-going events – even though some of the one-time events have been simultaneous.
Here are some of her 1981 one-time events:
Being an integral part of the opening of the new San Antonio Savings building of her husband, Walter McAllister, Jr.
Being a key figure in the opening of the new Museum of Art, as Chair of the Education Council of the San Antonio Museum Association Executive Committee…
Being president of the Southwest Craft Center …
Being Vice Chair of the Alamo Area Council of Boy Scouts…
Being on the University of Texas at San Antonio Development Board…
Being a member of the Board of the San Antonio Medical Foundation…
And, being President of the Cancer Therapy and Research Foundation…
Edith McAllister is the perfect organizational woman.
Over the years, she has reared four children, has led an active San Antonio business and social life, has been the recipient of many community honors and has served in countless civic endeavors.  Besides only a small listing of her many current activities above, she has been President of the Art League, President of Women's Committee of the Symphony, President of United Way and Mistress of the Robes for a Coronation of a Queen of Fiesta.
She is a master at arranging her time to accommodate many activities.  "I am miserable if I do not have a project."
She credits the Junior League for her keen sense of "accountable voluntarism."  The organization, she opinioned, give members a sense of discipline for community service.  "It opens your eyes to service opportunities."
She began her League work with voluntarism with Sunshine Cottage (when it was located in the Landa Library) and involved herself in a conglomerate of work which included everything from The Bright Shawl modeling to Rummage Sale Publicity.  She also received placement credit for being President of the Alamo Heights Junior High PTA and a Girl Scout Leader all at the same time.
Her energy and sense of community blossomed early.
She was born in Madisonville, Texas, and her early childhood was spent in Iowa.  The family returned to Texas and San Antonio when she was ten.  She attended Jefferson High School (where she met Walter McAllister, Jr. through the mother of another of our League members, Liz Hensey) and Westmoreland College (which later became Trinity) and the University of Texas where she was a member of Kappa Alpha Theta.  She married Walter about the time he left KMAC radio as a disc jockey and went to work with SASA.
Edith McAllister is exuberant in everything she attempts.  She calls herself a "health freak," is an avid swimmer and skier (she broke three ribs water skiing) and even sews – taking on ambitious projects such as drapes and bedspreads for the ranch when she has the uninterrupted time (which is seldom for such an active woman).
Edith McAllister has been honored often – as Philanthropist of the Year in 1977 and the National Jewish Hospital Dinner Humanitarian Honoree 1980, for example.
The Junior League of San Antonio is highly honored Edith McAllister is our volunteer Extraordinaire honoree for 1981.  She typifies that kind of exemplary San Antonio civic woman which the Junior League is proud to call member and friend.