1984-85 Volunteer Extraordinaire
Mrs. Louise Thomas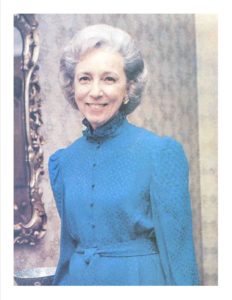 Every year the Junior League is proud to honor a sustainer as its Volunteer Extraordinaire.  She exemplifies the purpose of the Junior League — that of voluntarism.  The Volunteer Extraordinaire has translated her volunteer training and education into community commitment and involvement.  It is a privilege to recognize Louise Thomas as our Volunteer Extraordinaire for 1985.
As an active in the Junior League, Louise served in many capacities and held many positions such as, Recording Secretary, Corresponding Secretary, Treasurer, President-Elect and President.  One of her friends wrote, "she was a conscientious, dependable worker and has never lost her enthusiasm for the Junior League and its projects.  "This is evident in that she has continued working with the Junior League as a Sustainer by serving as advisor to The Bright Shawl Board and Advisory Board, and she worked with The Bright Shawl Building Committee.  Louise helped with our 60/65th Celebration Dinner honoring our Sustainers.
Louise is diversified in her many involvements and interests due mainly to her caring personality with concern for her community and church which she combines with her enthusiasm, organization, dedication and commitment.  She has served as interviewer at Christian Assistance Ministry, the Emergency Help Center for all people, and has served on the Advisory Board as well as Chair of the Sunshine Cottage.  Louise also has served as Vice President of the Women's Committee for the Ecumenical Center for Religion and Health, and Chair of the Alamo Heights Presbyterian Day School.  These commitments exemplify her caring nature and the willingness to give of her time and efforts for the benefit of others.
Another area of commitment has been to the Battle of Flowers Association serving as Treasurer and President.  After this involvement, she was asked to be on the Fiesta Commission and filled the offices of Treasurer and President.  The Fiesta Commission coordinates 81 organizations and nearly 150 events to put on our Fiesta Celebration.  A friend wrote, "her calm, pleasant manner guided them smoothly through many problems and functions.  Fiesta adds to the life of people in San Antonio and without her dedication the many free events would not have been possible."  Louise has used her creative talents by serving as Chair of her Garden Club.
Louise Thomas is a role model for us all.  She is quietly efficient, respected by all, and continues to combine an active involvement in the community with her family life.  One of her friends put it very well, "if she becomes the Junior Leagues' Volunteer Extraordinaire, everyone who has worked with her will say, 'ah, of course, good choice!!'"
Congratulations to Louise Thomas.