1987-88 Volunteer Extraordinaire
Mrs. Dela White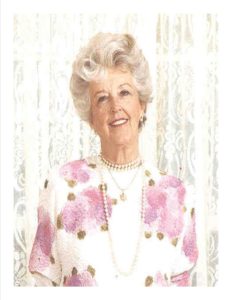 Making Music
For Those
Who  Listen
"The earth has music for those who listen."  This inspiring sentence, the motto of San Antonio's Sunshine Cottage for the Deaf, is also a fitting motto for the life of the school's founder, Dela White.  This Volunteer Extraordinaire for 1988 has spent her volunteer career making sound out of silence, words out of thought, understanding out of confusion, and communication out of isolation.  But there is one phrase that does not exist in Mrs. White's vocabulary:  "It can never happen."
Dela White has been a central figure in the life of San Antonio for a long time.  Her work with the San Antonio Museum Association Board of Trustees started, among other things, the Annual Halloween Party Benefit at the Witte Museum.  She is a founding member of the Charity Ball, which last year was responsible for replacing all the phonic hearing aids at the Sunshine Cottage, in addition to its support for other projects benefiting children in Bexar County.
She has been named Outstanding Alumna of St. Mary's Hall.  She has received the J.C. Penney Golden Rule Award for Voluntarism, the Jefferson Award from KSAT, the Sprit Award from KMOL, and the Young Lawyers' Association Liberty Award.  Indeed, there have been many awards and recognitions, but it is characteristic of Mrs. White that one finds it hard to get her to talk about herself—her focus is always on other people, on their needs and hopes and victories.
When discussing her various projects, Mrs. White is quick to point out that the organizations themselves deserve the credit for the work they have allowed her to pursue.  "I suppose with any award there has to be a body to accept the honor, but there are really so many people who make any award possible.  The Junior League gave me money, volunteers, and with the support generated in the community, Sunshine Cottage was founded.  I had the idea because I had a hearing-impaired daughter, but I turned to people, educators, ministers, friends, everyone I could, to get this going," she remarks.
In 1944, Mrs. White gave birth to her daughter, Tuleta, and discovered when Tuleta was 9 months old that her daughter was deaf.  Rejecting all advice to the contrary, Mrs. White clung to the dream that her daughter would be able to talk.  From an article in Collier's Magazine, Mrs. White learned of a school for deaf children in California founded by Mrs. Spencer Tracy, the mother of a deaf son, John.  There, children were taught to speak and were educated like other children so that they could be "mainstreamed" into regular schools.
After a time spent learning the Tracy Clinic's methods, Mrs. White returned to San Antonio determined to begin a school like that one here.  Then a Junior League active only 23 years old, Mrs. White went before the membership of the Junior League of San Antonio and told them of her idea for the school.  She asked for $15,000 for a 3-year period, received it, and on June 7, 1947, founded the Sunshine Cottage on the grounds of the Landa Library.
There were 7 students and one teacher in the school, housed in an old caretaker's cottage that Mrs. White fixed up with the help of parents and League volunteers (the name "Sunshine Cottage" as chosen because a local hardware store donate their overstock of bright yellow paint to her!).  She gathered more students and teachers.  After the three years for which the League had agreed to support the school had passed, Mrs. White herself raised support in the community by inviting 50 community leaders to dinner at the Menger Hotel.  At the end of the evening she had raised $160,000.
On the advice of Mr. Lester Nordan, she planned a new school to be built from scratch on land near Trinity University bought from the City of San Antonio for back taxes.  And the campus today is a testament to the community of people who made it possible:  stately oak trees (which subsequent additions have been built around) line the front of the school as gifts from friends in the 1950's.
The Sunshine Cottage has students attending daily, with an overall enrollment "mainstreaming."  The goal of the school is to get the children into mainstream schools as soon a possible, hopefully by first grade.  The school and its grounds are attractive and comfortable, and the special facilities, such as the soundproof testing room, are state-of-the-art.  Many additions have come over the years:  classrooms, buildings, the parent-infant program's building, called Sunshine Cottage (a replica of the original building at the Library).
Interestingly, Mrs. White pointed out that several developments in the NASA Space Program have resulted in benefits to the deaf student at this school:  the re-design of the building (hard tile walls were replaced with acoustic fabric-lined walls), the acoustically equipped classrooms which are nearly soundproof, the new advances in extremely sensitive hearing aids.  Classrooms at Sunshine Cottage even have specially designed non-reflective lighting because any shadows cast on a teacher's face could distort her lip movements for her students.  The children have bright, shiny faces that reflect their health and happiness – and they talk and laugh as boisterously as children in any school.  Sunshine Cottage represents a victory for deaf children anywhere, but it is actually quite unique.
Sunshine Cottage's extremely successful approach to deaf education, which, along with the bilingual parent-infant program, makes it a unique school in the United States, represents a small minority voice among theories and practices of deaf education.  "Nine out of ten deaf people actually have someresidual hearing. " Mrs. White points out; "the younger they are when they come here, the more of that hearing we can develop."
Mrs. White grows quite passionate on the issue of teaching language to the deaf.  Sunshine Cottage emphasizes the totality of "auditory-verbal" skills, which means promoting hearing and speaking through auditory exercises, reading and lip-reading.  The school's techniques clearly rely on the inherent nature of language as dialogue, suggesting that knowledge itself is a matter of communication back and forth.  "You can't tell a child what something is.  Just pointing to things is not learning.  You have to talk about things together and let the child learn to describe and to name objects," explains Mrs. White.  Learning language means learning to read and using correct grammar and diction.
She continues:  "It is work, hard work, and the parent must follow through with the child.  Some children eventually give up and turn to signing, and I say this is fine because different approaches work for different people, but I believe they should learn to read first."  Mrs. White is conscious that her approach is not for everybody, and careful to note its controversial nature.  But she asserts:  "I just want a deaf child to have the opportunity to be exposed to a program like ours – we teach the English language, subject, verb, and predicate."  Her daughter, she relates, often tells her how learning language this way made her busy and full life running two ranches what it is today.  (Tuleta, Mrs. White explains, speaks and lip-reads so well that a casual acquaintance might not even know she is deaf.)
The school's success stories are numerous:  Mrs. White tells how she watched a tiny hearing aid smaller than a pea placed in a 8-week-old baby's little ear.  When it was placed in the ear and the volume turned on, ever so slightly, the child, who had been thought to be totally deaf, opened his eyes wide – and when the volume was turned down, he closed his eyes and went back to sleep.
Mrs. White's face too reflects the job of this moment as she tells about it.  "We don't always bat a thousand " she smiles, "but it's pretty good or we wouldn't be here.  These children are special gifts to their parents, and we help them all learn to work with whatever hearing they have so that they can lead full, mainstream lives."  Her warm, brown eyes full of joy, she tells of a reunion of 42 self-sustaining alumni of the school:  a successful San Antonio contractor, Post Office employees, a plumber, and several employed at Kelly Field, among others, talked and laughed as they recalled their days at Sunshine Cottage
What is the future of the Sunshine Cottage?  Mrs. White is involved in possible plans to publicize the school more, not with a view to expanding it, but with the idea that other communities should start their own schools to teach the deaf to speak.  They are hoping for, says Mrs. White, articles in publications such as Texas Monthly and San Antonio Monthlyfor a start, with stories following in airline magazine, brochures in pediatrician offices, etc.  Just recently Sunshine Cottage has been added to the UTHSC program of in-service training for pediatricians.
I asked Mrs. White to offer some advice to other project planners in the League and in the community at large.  "You believe," she said simply.  "You stumble, you fall, you get back up.  You must make sure you really know that what you're doing will provide benefits that are as great to those who need them as what it's going to take to do the project.  You ask yourself, "Are you really benefiting humanity and enriching your particular community?" She adds:  "Make it count, whatever it is you're doing, make it count.  We have many children here, and if we can educate them and place most of them out in the community as self-sustaining human beings, then we've made Sunshine Cottage count."
You have only to see those children's faces and hear their happy conversations to know that Mrs. White has made every bit of what she has done count, and then some.  In a time when League women are facing many difficult choices in balancing home, marriage, children, career, voluntarism and church, meeting someone like Dela White is truly inspiring.  She makes all the myths about the Superwoman seem rather thin, for the strongest impression one receives about this particular "Superwoman" is that the secret lies in focusing on the "super-ness" of others in building community through communication with other people, and in refusing to accept isolation as a condition of life for anyone.  It's not a matter of your achievement, your being perfect your failing but of forgetting about failing altogether.  There is music as long as there are human beings to make it, and our function, Mrs. White's extraordinary life makes us realize, is to hear that music in other people and then to offer our own harmonies to the world around us.