1989-90 Volunteer Extraordinaire
Mrs. Margie Rust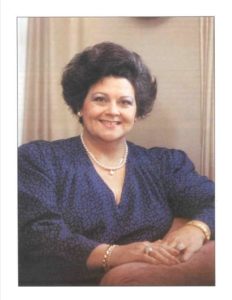 It is easy to look at someone as capable and committed as Margie and assume that she was born that way, but Margie denies this.  She gives much of the credit for her voluntarism to her mother, Sustainer Margaret Cape:  "Mother showed me what community spirit is all about.  She was, and is a wonderful role model.  But the Junior League deserves the credit for teaching me organizational skills."  Through placements ranging from volunteering at the hospital and serving on the Public Relations and Met Auditions Committees to serving as Recording Secretary and Editor of the Bright Scrawl, Margie learned to manage time, tasks and people.  She notes, "The Junior League taught me the things I needed to know to be able to handle the diverse volunteer jobs I've had since I went sustaining.  But the amazing thing is that I wasn't conscious of learning it all until I was called upon to put those skills into practice later.  The Junior League is good at providing you with a job, allowing you time to master it, and then offering you another, more difficult one so that you can learn new skills.  This encourages you to grow into your potential."
Margie is the perfect example of why the Junior League was started – to train young women to go on and become leaders in the community.  Margie credits the Junior League with giving her the self-confidence to feel that she could handle a big job:  "I never even thought about seeking some of the positions I held within the League, but others felt I would do a good job and their confidence was contagious."
In the Junior League she got to know many wonderful people. Enthusiasm and a love of people indeed shine through when Margie speaks and illumine all she does:  "For me, volunteering and friendships are intertwined.  As I work on a new project I make new friends, I involve old friends, and I sometimes get involved with a cause because of friends.  I have a wonderful support system of close friends whom I call upon often for help.  I know the right people to ask to get the job done."
One of the secrets of Margie's success as an organizer is her sense of fun.  "Margie has the wonderful ability to combine work and play," says Betsy Gwin, Margie's Co-Chair for 60th/65th JLSA Anniversary Gala:  "I would work with her again anytime!"  This seems to be the consensus of all who have worked with Margie.  Margie's unwritten rule is "I never ask the people I recruit to do something that I'm not wiling to do myself.  I try to be involved in every aspect of a fundraiser, perhaps to a fault."
A vital support system for Margie is her family – sons, Joey and Cape, and husband, Joe Carroll Rust.  "No one can volunteer as much of her time as I do without the support and understanding of her family.  I am very lucky because Joe and I both feel that it is important to do what we can to help make this community better.  He is intensely involved in the Literacy effort through his job as Associate Editor of the San Antonio Light," she says.  Margie proudly cites the Charles Scripps Literacy Award received by the San Antonio Lightas recognition of what Joe and his company did in this area.  "With cuts in funding to not-for-profit organizations, community involvement by individuals and corporations is becoming more and more important," Margie adds.
As a former writer for the San Antonio Light, Margie has seen the many needs present in this community and the numerous organizations dedicated to trying to alleviate those needs.  Scanning a list of Margie's involvements, one sees the names of many diverse organizations representing years of dedication to the community.  Margie has served as Co-Chair of the American Cancer Society's Cattle Baron's Gala, Past President of the Cancer Center Council, Vice Chair of San Antonio's UNICEF Committee, President Elect of Symphony League and Co-Chair o next fall's St. Luke's Hospital Gala.  She cites each one as a favorite for different reasons, but especially dear to her heart are the Project ABC Alliance, of which she is a founding member, and Southwest Foundation Forum, of which she is a Past President.  "Project ABC is helping people with special needs children who are desperate and have no other place to turn.  And the things they are doing at Southwest Foundation are incredible!  Its scientists have a worldwide reputation for their research.  It is marvelous that we have such a resource right here in San Antonio," Margie says.
These days Margie balances all these volunteer activities with her job as manager of the gift shop at Humana Women's Hospital, where she continues to put the skills she has learned over the years to good use.
Talking to Margie, who was honored by the city with induction into the San Antonio Women's Hall of Fame, one comes away with all sorts of dreams for San Antonio and pride in the part that the Junior League has played in shaping this dynamic community leader.  We all join in saying thanks and congratulations to Margie Rust.