1990-91 Volunteer Extraordinaire
Mrs. Betty Osborn Biedenharn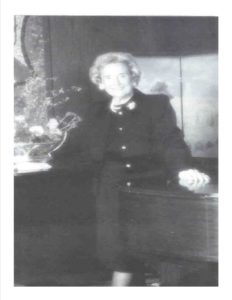 Warmth, enthusiasm, kindness, sense of humor, love of life and of people – these are words that are universally used in describing Betty Osborn Biedenharn.  A central figure in the life of San Antonio for years, Betty and her family moved to San Antonio when she was 13.  She attended Saint Mary's and Mills College before graduating from the University of Texas.  In 1947 she joined the Junior League of San Antonio and she has not stopped volunteering since!
 Like many whose list of accomplishments is long, Betty does not understand why was been chosen as the 1991 award recipient.  But a quick glance at her resume reveals that her involvement represents years of continued dedication and service to San Antonio. Betty has served as the President of the Board of:  The Junior League of San Antonio The Charity Ball Association, The President's Committee of Trinity University, the Southwest Foundation Forum, The Pi Beta Phi Alumnae Club, The Fenwick Club and The Assembly.  In addition, past or present Board affiliations include:  M.D. Anderson Cancer Center Board of Visitors, San Antonio Symphony, Southwest Texas Methodist Hospital, Santa Rosa Children's Hospital Foundation, Texas University Fine Arts Advisory Council, Friends of the McNay Art Museum, San Antonio Little Theatre, Council on Alcoholism, Inman Christian Center and Learning About Learning.
 "It seems like Betty becomes president of every organization she belongs to!" says lifelong friend Nancy Creamer.  "The secret of her success is her genuine enjoyment of people.  Betty is one of those people who "never meets a stranger'".  Two other ingredients cited by Nancy are that Betty always has a smile on her face and that she never forgets a name.
 Daughter-in-law Kathy, a League member, says, "In looking over Betty's lifelong commitment to San Antonio, what jumps out is the diversity of her involvement.  She has worked in areas ranging from the arts to health and from education to religion.  On top of all that, she has managed to balance her volunteer commitment with being a devoted church member, wife, mother of four and grandmother of six.  That is quite an accomplishment!"
 Betty credits the Junior League with helping to develop many skills she has used in her numerous volunteer activities.  "I think of the Junior League as a sort of finishing school for volunteering," she says, using terminology of a by-gone era.  But Betty is a wonderful role model for professional League members.  At a time in her life most women would be content to play with their grandchildren and rest on their laurels, Betty goes to work as Chair of the Board of Osborn Heirs Company several days a week.
 Though Betty cites many placements as enjoyable, one highlight of her League years involves her lifelong love over music.  Having spent childhood summers in New York playing piano, earning an undergraduate degree from the University of Texas and a graduate degree from Trinity University, both in music, and studying with Mieczysla Munz in New York, it is only fitting that during her presidency, the Junior League of San Antonio undertook the sponsorship of the Southwest Regional Auditions of the Metropolitan Opera National Council, in February of 1960.
 "Having the Auditions here is such a coup for San Antonio!" says Candes Chumney, Immediate-Past Southwest Regional Chair.  "It happened only because of Betty's love of music and Mag Tobin's confidence in Betty and the Junior League.  Who could have imagined that the auditions would be so successful!"
 Daughter-in-law Carolyn, also a League member, says she is amazed at all Betty has done and continues to do.  "Her energy, combined with the philosophy that we should all do what we can to better the community in which we live, has enabled Betty to make a tremendous impact on San Antonio."
 There is an old joke in Betty's family that she is able to devote so much time to volunteering because she has never learned to play bridge. For that, the Junior League of San Antonio can be grateful!  Congratulations and thank you, Betty.