1991-92 Volunteer Extraordinaire
Mrs. Agnes Harwood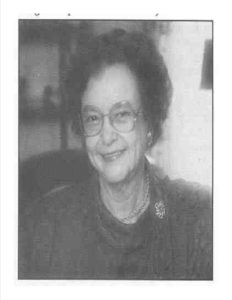 Fitting
Tribute
for a
Spirit of Giving
Hats off to Agnes Harwood, 1992 Volunteer Extraordinaire! Agnes, a sustainer who is mother to two Junior League sustainers, exemplifies the spirit of voluntarism through her interest in the community and concern for others.
In past years, Agnes has accepted numerous leadership positions. Having served as President of the Fiesta Commission, President of the Kappa Kappa Gamma Alumnae, President of the Battle of Flowers Association, First Chairman of the Zoo Ball, and President of Lantana Garden Club.  Junior League highlights include stints as Rummage Sale Marketing Chair, Placement Chair, The Bright Shawl Chair, Recording Secretary, Corresponding Secretary, and First Vice President, which at the time was not a move-up position.
Agnes says being named 1992 Volunteer Extraordinare was very exciting.
"I'm not sure I deserved it, but I sure enjoyed it," she says.  "And it gave me a chance to thank the League for training me.  So many people I've been involved with in the past have gotten in touch with me since I received this honor.  It's been lots of fun."
A native of San Antonio, Agnes graduated from Jefferson High School and attended Trinity University for two years before going on to graduate from the University of Texas.  She says she developed an appreciation for voluntarism when she joined the Junior League.
"Without the League, I don't think I would have ever gotten so involved in voluntarism," Agnes says.  "The beauty of the Junior League is that it gives you a taste of volunteering and makes you eager to volunteer even more."
Agnes has served as board member with the San Antonio Zoo, a member of The Bright Shawl Council, a volunteer with the Fiesta Commission, and a member of the Military Civilian Club, which welcomes military members to town.  Her husband Roane also is active in the community, having served as chairman of the San Antonio Chamber of Commerce, President of Rotary Club, King Antonio, and President of the St. Anthony Club.
Their three children carry on that tradition as well.  Daughter Anne Harwood has served as Transfer Chair and a Zoo Weekend Docent, and Gail Harwood has served as JLSA Treasurer and Catherine Taylor as Community Council Chair.  Agnes is sure to approve of her husband's and daughters' involvement in the community, given her philosophy about voluntarism.
"Volunteering gives you the chance to learn something about your community, your city," Agnes says.  "Through volunteering, you gain the satisfaction of knowing you've done something to improve the community."