1993-94 Volunteer Extraordinaire
Mrs. Winifred Winter Cocke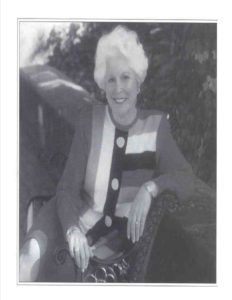 Winifred's Still Piloting the Cocke Pit
Winifred Winter Cocke is an old fashioned girl who lives in a contemporary house nestled away on a street so hidden, that even lifelong residents of Alamo Heights can't find it.  She loves God, redheads, books like "Anguished English" and the Bible, regional ceramics and playing Chopin on her piano.  She reads history, enjoys offbeat flower arrangements, walking with her friends and traveling with her husband of over forty years.  She is proud of her three children, Reagan Bartlett and Martha and adores her grand children.
A friend dedicated a book to her.  But, she won't bore you with any of the details.  Winifred is a lovely anachronism.
While she comes from the generation that defined a part of themselves by their husband's identity (Mrs. Bartlett Cocker, Jr.), it is difficult to think of this serene woman as anyone but just Winifred.
Winifred Winter Cocke is this year's Volunteer Extraordinaire, an honor she shares with few past recipients.  The award is the Junior League's highest honor; one reserved for the generals, the ladies who have given 150 percent of their efforts to both the League and the community.  These ladies have encouraged, led, donated time and money and captained Rummage Sales without a single cuss word.
"One of the nominating committee members said, "We had eight candidates, each very outstanding.  What set Winifred apart was that she had paid her dues.  Regardless of the undertaking, she had done it correctly, graciously and had to hire a substitute teacher in order to attend the provisional training sessions.  She was also queen of Fiesta that year.  "When I went back to teach in the afternoon, the other teachers couldn't wait to hear what I had learned."
Recalling her "most meaningful placement" as a volunteer at Morningside Manor, she commented, "I remembered gaining so much from that placement.  One wonderful older woman told all of us, "when you leave here, you must leave these problems here."  She also remembered one of the residents that was finally coaxed out of her room after many months.  "That was a personal triumph."
"The Junior League stretches a person and allows them to do things that they never thought they could do."
Another favorite League placement was that of Gallery Chair.  "We had the Pat Hammond Kite Show that year.  I sold one of the kites twice!"
In 1968, she was Rummage Sale Chair, where "you make life-long buddies."  She also recalled "the horrible moment" when she realized that all the bridal gowns had been stolen from the French Room.
As the league's 1974-75 president, she inspired and amused the league's 1,227 members with her "From the Cocke Pit: column and guided the expansion of The Bright Shawl.  The KMOLCall4 program was started and the Children's Shelter received a grant for $7,520.
The most embarrassing event of her presidential year was the night her husband picked up the phone and growled, "The Junior League is closed!"
When friends talk about Winifred, they will frequently mention her strong sense of spirituality, her enthusiasm and encouragement.  "I realized many years ago, that God had put me here to love other people."
Years ago, when bedridden and in pain with a back problem that forced her to be immobile for almost month, she mentioned that her mental attitude and prayers focused around thanks, rather than pain.
When asked about her future, she responded, "I am so busy living in the present that I don't have time to think about it!"
Winifred has also given her time to several other community projects, She has served on the boards of the Methodist Hospital and the Palmer Drug Abuse Program, The Bartlett Cocke Jr. Construction Company, Friends of Hospice and Morningside Manor.  She was also PTSO President, and has been active at Christ Episcopal Church where she led Bible studies, Daughters of the King and became the second female Senior Warden.
Winifred is a graduate of Alamo Heights High School and the University of Texas.