1995-96 Volunteer Extraordinaire
Mrs. Lucy Walters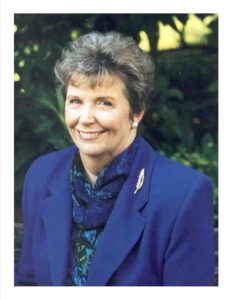 Each year the Junior League of San Antonio, Inc. honors a Sustaining member who exemplifies the benefits of Junior League training through her continuing volunteer contributions to the community. This Volunteer Extraordinaire, Lucy Walters, has a record of community service that is a shining example of how much impact one Junior League trained volunteer can make in our community.
Born in La Crosse, Wisconsin, Lucy has lived in San Antonio since she was six and has her roots here.  She attended Newcombe College, Tulane University, in New Orleans, where she met John K. Walters, Jr. (Jack).  Five days after graduating, they married.
Due to joining the Marines, the family moved quite a bit until 1960, when they chose to reside in San Antonio.  Lucy and Jack raised three children; Beth, John and Tom.
In 1965, Lucy joined the Junior League.  Her placements included waitressing, Assistant Gallery Chair and various other committee jobs.  Her position as Public Affairs Committee Chair proved to be her favorite.  That year, the committee focused on learning disabilities and her interest in this problem led her to help establish the San Antonio Association for Children with Learning Disabilities.
In 1968, the Texas Association for Children with Learning Disabilities presented her with an award for her outstanding service.  As Public Affairs Chair she also coordinated a series of seminars for women that were open to the public and co-sponsored by the Junior League, Family Service Association and four other organizations.
Through the years, Lucy has been a member of a myriad of volunteer boards, including:  Harry Jersiz Center; Home and Garden Pilgrimage; Good Samaritan Center; National Kidney Foundation of South Texas; Kidney Association of San Antonio; and the Child Guidance Center (formerly Community Guidance Center)  From 1981-1989 she was President of the Child Guidance Center.
One organization which is indebted to Lucy for her devotion of time and energy is the Family Service Association.  She has served on or chaired almost all of that organization's committees.  In addition, she has served on the National FSA Board and Executive Committee as well as other national committees.  In 1981, our extraordinary volunteer received the Clare Fagrie Award for outstanding service to the Southwestern Region, FSA and in 1938 was honored at the Family Service Association of San Antonio's 80th anniversary celebration.
"Many of the important things in my life have happened at Christ Episcopal Church", says Lucy of her lifelong commitment.  Her involvement with her church includes devoting time to the vestry, the Altar Guild and in the Stephens Ministry, as well as being a past president of the Women of Christ Church.
Through all of this dedication to community service, she always managed to keep her focus centered on raising their children.  Her involvement with the National Kidney Foundation of South Texas and the Kidney Association of San Antonio has been especially meaningful to Lucy, having lost her younger son, Tom, to kidney disease.  Beth says of her mother:  "My brothers and I watched our parents give so freely of their time to the church, schools, and various community organizations.  Mama's primary job was to nurture the development of their three children.  I learned by example from my mother how important it was to show your children to think beyond themselves, to share a part of themselves with others, and to follow through with your commitments.  I hope I can be as good an example for Lucy and Will".  Beth has obviously inherited the volunteer gene!   She has served as President of the Junior League of Austin and was elected to the AJLI board.  It is apparent that this family tradition of community involvement is going to continue.
Lucy feels that because of the opportunities she found in the Junior League and the ongoing contribution to the San Antonio community made by League volunteers, she is eager to continue her involvement and support.
The countless people whose lives have been touched by Lucy Walters unanimously agree that there is no one more deserving of the title "Volunteer Extraordinaire."