1999-00 Volunteer Extraordinaire
Mrs. Ellen Munson Snow, PhD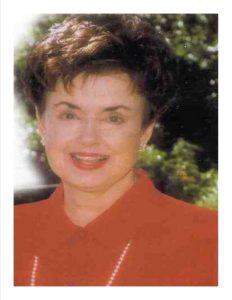 Ellen Munson Snow is the epitome of a volunteer extraordinaire.  Despite a demanding professional career and numerous personal obligations, Ellen has selflessly dedicated her time and talents toward developing the potential of women through voluntarism.
There is nothing Ellen won't do or hasn't done to improve and benefit our community during her 40-year span of Junior League membership that sparked a family tradition inspired by her mother, Genevieve Munson, and carried on today by Ellen's daughter, Ellie, and daughter-in-law, Elizabeth.
From acting as a guide at Hemisphere Park, to teaching children art appreciation and working with disadvantage youth, Ellen has utilized her steadfast dedication and leadership abilities to fulfill such roles as Junior League President (where she instituted Volunteer Extraordinaire), Sustaining Advisor to four Board of Directors and The Bright Shawl, and the chairperson for many League committees.
Today, whether working regular placements or helping with special projects, Ellen's selfless concern for others has allowed her to persevere on numerous committees such as the Child Watch Committee, where she is the only member to have remained with the project from its inception, the 75th Anniversary Celebration Committee and the Monitoring and Education Committee.
Ellen's work with the Junior League serves as only one part in the role she plays in the community as a whole.  She has served as Vice-President on the Board of the Health Education Center at UTHSC, while continuing to chair the Alamo Area Council of Governments Committee that determines regional needs in the areas of health, human services, education and substance abuse prevention.  Additionally, she is member of the Charity Ball Association, serving as assistant to the Charities Committee, and remaining a member of the Battle of Flowers Association, previously serving as its Recording Secretary and Vice President.  Through her work with the United Way, she was chosen to serve as the Facilitator at a Regional Planning Conference for the Texas Health and Human Services Commission.
And this is only the beginning.  Ellen, in her professional capacity as an Educational Psychologist and owner of Educational Associates, routinely contributes consulting services to community agencies and school districts to help them in the planning and acquisition of funding for educational programs such as literacy.  With no signs of slowing down, there is just no telling what Ellen will undertake next.
Ellen's remarkable accomplishments do not end with here community role but extend into her personal life as well.  She has remained happily married to her college sweetheart, Corbin Snow for 38 years and is the mother of four children.  The Snows are now the proud grandparent's of six beautiful grandchildren that Ellen hails as the job of her life.
The JLSA joins Ellen's family in saluting her accomplishments and for continuing to inspire League members to dedicate their time and talents to further and improve our community.