2003-04 Volunteer Extraordinaire
Mrs. Peggy Pitman Mays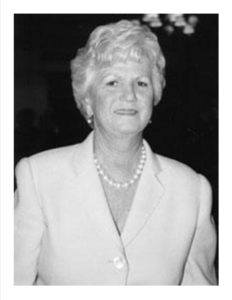 The Junior League of San Antonio honored Peggy Pitman Mays as the Volunteer Extraordinaire at a luncheon held March 23, 2004.  Mrs. Mays was selected because she epitomizes the volunteer spirit of the Junior League of San Antonio.  She is a "visionary who has been giving to others throughout her League career and continues to dedicate her time and effort to the community."
While in the league, Mrs. Mays was co-creator of the League Program for Docents at the McNay Art Museum.   She also chaired the League Education Committee, Community Arts Committee, Advisory Planning Committee and served as the league Treasurer.
Many members of her family and friends were in attendance to honor her as well. Her daughter, Kathy Mays Johnson helped produce a video which highlighted her commitment to voluntarism including the San Antonio Art Museum, CTRC, Lady Bird Wildflower Center and of course her family.
The honoree spoke and thanked those in attendance.  A gift was given to the San Antonio Museum of Art Children's Program in the name of Peggy Pitman Mays from the Junior League.  Mrs. Mays is the very best of what the Junior League of San Antonio strives to develop in its members.  She never misses an opportunity to better her world for those efforts she is deservedly honored.