2005-06 Volunteer Extraordinaire
Mrs. Marilyn Eldridge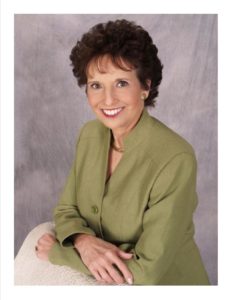 The Junior League of San Antonio, Inc. is pleased to announce that Marilyn Eldridge will receive the 2006 Junior League of San Antonio Volunteer Extraordinaire Award at a luncheon to be held on Tuesday, March 21, 2006. She joins a remarkable list of past recipients. Given each year, The JLSA's Volunteer Extraordinaire Award is presented to a Sustaining member of the league who exemplifies the true spirit of voluntarism by serving others through time and effort in our community.
Marilyn is a former president of The Junior League of San Antonio, Inc. and is an active leader and volunteer for numerous civic and professional organizations which includes the San Antonio Women's Center, Battle of Flowers Association, San Antonio Bar Association, Trinity University Fine Arts Center, Southwest Foundation Forum, San Antonio Symphony League, Planned Parenthood of San Antonio, and the Fiesta San Antonio Commission—just to name a few.
Her passion for helping others has garnered Marilyn's national attention through recognition and commendation in Time Magazine for her innovative work in the area of adoption and the creation of Adoption Affiliates, of which she is the President and Chairperson of the Board of Directors.
"The many and varied civic organizations to which Marilyn has given her own gracious style of leadership clearly demonstrates the depth and breadth of her talent and interests," said Honey Shepard. "She is efficiency with a smile, eloquence wrapped in charm and innovation with energy. Marilyn is always open to new ideas, and she is tolerant and tactful with everyone she works."
Marilyn's many interests and projects often keep her working late into the night—a reality to which her husband, Huard, has become accustomed, even quipping that he's "learned to sleep with the light on!"
Marilyn and Huard have two adult children, Allen Cazort and Cynthia Collins, married to Taylor Collins, and two granddaughters, Julia and Chloe Collins.
Junior League Involvement
President, Junior League of San Antonio, 1977
Sustaining Advisor to the Board of Directors
Sustaining Advisor to the Public Affairs Committee
Sustaining Advisor to Community Council
Member nationwide committee to restructure AJL organization of member Leagues
Past and Present Civic Involvement
Bexar County Women's Center, President Board of Directors
Southwest Craft Center, President Board of Directors
Trinity University Fine Arts Center, President Board of Directors
Alamo Heights High School PTO, President Board of Directors
Southwest Foundation Forum, Member Board of Directors
San Antonio Symphony League, Member Board of Directors
Planned Parenthood of San Antonio, Member Board of Directors
Texas Abortion Rights Action League, Member Executive Committee
Fiesta San Antonio Commission, Member Executive Committee
Pi Beta Phi Fraternity, Member Executive Committee
Battle of Flowers Association, Member of Executive Committee
Nova Health Systems, 1973 Co-Founder and Original Chairperson
San Antonio 100, Founding Member
Chamber of Commerce, Leadership San Antonio Participant
State Bar of Texas, Member District 10 Grievance Committee
Professional Organizations
San Antonio Bar Association
State Bar of Texas
National Health Lawyers Association
American Public Health Association
Association of Reproductive Health Professionals
Texas and Southwestern Cattle Raisers Association