2006-07 Volunteer Extraordinaire
Mrs. Peggy Walker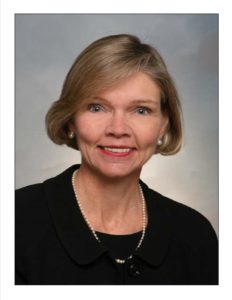 Each year the JLSA's Volunteer Extraordinaire award is presented to a Sustaining member of the league who brings the true spirit of voluntarism to life by serving others through time and effort in our community.
Peggy serves as an inspiration to us all by balancing her career as Senior Vice President and Private Client Manager in The Private Bank at Bank of America with her numerous community commitments. Peggy currently serves as Chairman for the Board of Sunshine Cottage School for Deaf Children, is on the Executive Committee of the Witte Museum, and is President and Co-founder of Smart Start, a trust fund that awards grants to help local childcare providers become nationally accredited. She also serves on the committees for the United Way, the Rotary Club of San Antonio, and is a current member and past Chairman of the San Antonio Education Partnership.
Peggy has received numerous awards for her ability to bring critical community issues to light but she measures her own success by her ability to help others succeed. She reminds herself of this goal everyday by reading a quote she keeps on her desk. By Ralph Waldo Emerson it says, "It is one of the most beautiful compensations of this life that no man can sincerely try to help another without helping himself."
Peggy somehow also manages to find time to enjoy her hobbies of horseback riding, gardening, skiing and traveling. She is also the proud mother of two children: Sara, 18, and Edwin, 14.
Peggy's selflessness, eloquence and energy make her the obvious choice for this year's Junior League of San Antonio Volunteer Extraordinaire.