2009-10 Volunteer Extraordinaire
Suzanne Cheever Goudge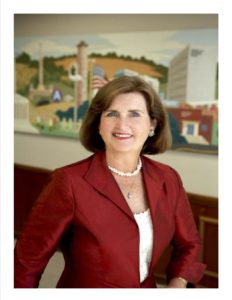 The Volunteer Extraordinaire Award is given each year to a Sustaining member of the League who exemplifies the true spirit of voluntarism. She is a visionary who served others throughout her league career and continues to dedicate her time and efforts in our community. The League is proud to have chosen Suzanne Cheever Goudge as the Volunteer Extraordinaire 2010.
Suzanne's service in the Junior League of San Antonio began in 1978 after returning to San Antonio two years earlier to begin her career at Broadway Bank. Her leadership placements in the league included chairing Sunshine Singers, the Nominating Committee, and the Community Council. Suzanne chaired the Building Committee which was responsible for the expansion of The Bright Shawl as we know it today.
Suzanne's professional career has continued at Broadway Bank where she currently serves on its Board of Directors as well as numerous other committees within the bank.
Her service within the community has included the United Way, American Heart Association, Girl Scouts of Southwest Texas, San Antonio Zoo, Retired Senior Services, Sunshine Cottage School for the Deaf, St Anthony de Padua Catholic Church, Delta Delta Delta House Corporation, Alamo Heights School Foundation, and KLRN. Her work within each organization not only spans years of service, but also includes various leadership positions.
Suzanne and her husband, Jimmy, have four grown children: Sara Broulliard and her husband Jeff; Carrie Dryer and her husband Nick; Cy Goudge and Kate Goudge. Suzanne is the daughter of Charlie and the late Sally Cheever, who was herself honored in 1998 as a Volunteer Extraordinaire.
The Junior League of San Antonio is proud to award this honor to Suzanne. Her service to the Junior League and the community we live in, helps make San Antonio a better place for all of us.