Celebrate the Junior League of San Antonio's 10th Annual ¡VIVA! SA Race
The Junior League of San Antonio, Inc. (JLSA) is thrilled to commemorate our 10th annual ¡VIVA! SA Race. For the past decade, this family-friendly event has brought together community members from all over San Antonio in support of JLSA's work with over 60 non-profit organizations. 
You can join JLSA on April 30, 2022 at 434 S. Alamo Street starting at 7am for this event!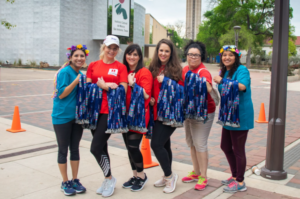 This year's race will be hybrid, allowing attendees to participate from wherever they are most comfortable. From first-time runners to veteran athletes, the 5k-10k courses passing through the scenic Hemisfair Park along the San Antonio River are great for any level.
Be sure to stay for the post-race celebration, to include our awards ceremony, food and drinks. Awards will be given in the 5k and 10k races for the top 3 female and male times. Those attending virtually are encouraged to share pictures of themselves on the day of the event using hashtag #vivasarace2022.
Want to help the Junior League make an even greater impact on our community? Encourage your family and friends to join in on the fun! Participants are encouraged to register in advance on to receive race perks and swag. Registration is available up until and on the day of the event. For more information about this event, visit: https://www.jlsa.org/viva-sa-race/.
The ¡VIVA! SA Race – or as it was originally called, Resolve for a Better SA 5K – was started by a group of four women in JLSA in response to the need for additional fundraising training for new league members.
This group, which included members Erica Ellis and Ariana Barbour, started with a challenge on Erica's recommendation to run one race a month. From this challenge, the event we know now as ¡VIVA! was born. The women developed best practices with each race they participated in, and used this knowledge to create an event that would not only provide those new to JLSA with fundraising training, but could also be an inclusive event for the whole community. 
One of Ariana's favorite things about ¡VIVA! is that brings people to the center of our city to connect with others and experience everything San Antonio can be to them while learning about how the Junior League strengthens our community. She's inspired by how ¡VIVA! still resonates with our community, commenting, "It takes one person to create a movement, and Erica got people moving." 
For Erica, everything's come full circle. She will co-chair the race in March 2023 with one of the other founding members, Kristen Henry. When asked what she hopes for the future of the event, she's excited to see it grow and explore more opportunities to get more people involved. Ten years from now, she hopes to see ¡VIVA! making an even greater impact for the JLSA and our city. 
Thank you to our in-kind sponsors, Tandem San Antonio, Natural Grocers, and Freetail Brewing Company!
Submitted by: Lauren Esquivel, Communications Council Liaison 
Event Details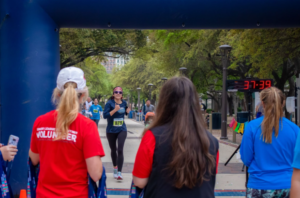 10th Annual ¡VIVA! SA 5k, 10k, and Kids Fun Run
April 30, 2022
7:00 am- Registration and coffee
7:30 am – 10k and Competitive Walkers race begins
7:45 am – 5k race begins
8:30 am – Kids Fun Run (1k) begins
Hemisfair Park – 434 S Alamo St, San Antonio, TX 78205 (or virtually!)
Registration: https://runsignup.com/Race/TX/SanAntonio/VIVASAVirtualRace 
About the Junior League of San Antonio
The Junior League of San Antonio, Inc. is an organization of women committed to promoting voluntarism, developing the potential of women, and improving communities through the effective action and leadership of trained volunteers. Its purpose is exclusively educational and charitable. Learn more at jlsa.org.