Community Partner Spotlight: Family Endeavors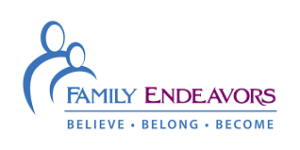 Organization Name: Family Endeavors
When was your organization founded / how long have you served in the San Antonio Community: Family Endeavors, Inc. is a private non-profit agency founded by inner-city churches as Urban Ministries in 1969 to meet the most pressing needs of the San Antonio community.
What is your Mission Statement: The Mission of Family Endeavors is to provide comprehensive, effective, and innovative services that empower people to build better lives for themselves, their families, and their communities. We believe in people. We believe in their capacity to grow, to heal, to change, to succeed, and to affect those around them for the better.
In 600 words or less, how does your organization impact our San Antonio Community: Family Endeavors serves over 16,000 clients each year providing services that target homelessness, unemployment, child abuse, foster care, disabilities, childcare, education, veterans, disasters, independent living, and counseling. Family Endeavors unifies families torn apart by poverty, unemployment or neglect providing real, practical solutions and a path to earned income. Families receive counseling, crisis intervention, case management, homeless prevention services, parent training, practical life skills, and vocational support, training and employment.
What is the vision of your organization for the future of our Community: For several decades now, the employees, volunteers, and board members of San Antonio Family Endeavors have lived out these principles with the tens of thousands of children, adults, and families that have used our programs.
We value innovation, collaboration, accountability, and real tangible results. Are our customers measurably better off after experiencing our services? Are we utilizing our resources in the most effective way possible? Are we maximizing community partnerships? Do the results indicate we are as good as we think we are?
These values and questions focus and direct our mission as we prepare for tomorrow and the following decade.
Believe. Belong. Become. Join us in our endeavor.
How does the Junior League of San Antonio help you fulfill your Mission: The Junior League of San Antonio (JLSA) does not simply fulfill volunteer work, JLSA embodies a support network, sense of family and education for the moms and their children that reside at Fairweather Family Lodge. Our residents learn valuable social skills, family values, and feel both safe and supported through the process of activities. Many of the JLSA volunteers share from year to year the family's growth and successes as part of our partnership.