Community Partner Spotlight: Green Spaces Alliance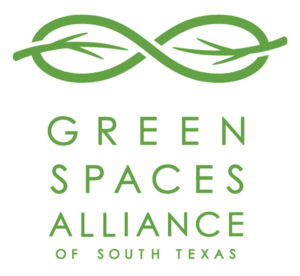 Organization Name: Green Spaces Alliance
When was your organization founded / how long have you served in the San Antonio Community: The organization was founded in 1998 as a land trust. The Community Gardens Program was added in 2006.
What is your Mission Statement: To sustain the natural environment and enhance urban spaces through land conservation, community engagement and education.
In 600 words or less, how does your organization impact our San Antonio Community: Since 1998, Green Spaces Alliance of South Texas has helped conserve over 135,000 acres of land primarily over the Edwards's Aquifer Recharge Zone by working closely with the City of San Antonio Edwards Aquifer Protection Program and with landowners to create conservation easements. To further educate and engage San Antonio residents in the value and purpose of land conservation, the Picture Your World Youth Photography Program was started in 2002 and has served over 3,500 youth ages 8-18 and the Community Gardens Program was started in 2006 to create close to 50 neighborhood gardens and green spaces. Both programs get people out into nature for interaction and exploration. The Community Gardens Program builds unique opportunities for neighborhood groups to realize their vision for an accessible park-like, productive space.
What is the vision of your organization for the future of our Community: We hope to continue preserving the Edwards Aquifer Recharge Zone and its ecosystem especially as the population of San Antonio grows and the need for a safe clean water supply increases. We also hope that we can expand the Picture Your World Youth Photography Program to reach more students who don't have access to such a unique experience. When building community leadership and interest for the support of a community garden we always recommend that garden members be within a one mile radius of the garden site. As people become more aware of their need to re-connection to the natural world, take an interest in where their food comes from and want to create a beautiful gathering place, it's not unrealistic to think that maybe someday every neighborhood can have its own community supported green space. We hope we can be a part of making that happen for San Antonio.
How does the Junior League of San Antonio help you fulfill your Mission: The Junior League has been an amazing partner over the past several years through their engagement in the Community Gardens Program. As a small non-profit trying to accomplish the far reaching goals of supporting garden projects in areas with tremendous need for beautification, community connections and access to fresh food, it is invaluable to have a committed, solid, consistent volunteer base. This type of support helps our small staff build capacity at the grassroots level. Junior League volunteers have tackled a wide variety of tough gardening tasks at local community gardens. Community gardeners who struggle with daunting garden maintenance and reduced productivity get an extra burst of energy to continue their efforts after having a helping hand from Junior League volunteers. Gardeners can once again take pride in their projects and continue on to engage their neighborhood residents and families in a park-like, productive urban setting.