The JLSA is proud to launch our 2023 Signature Project, "Paving New Paths," in partnership with Clarity Child Guidance Center!
The "Paving New Paths" Campaign will be led by 25 local Trailblazers, and will take place January 30, 2023 – May 1, 2023.
Trailblazers are community members who are inspiring change in San Antonio's mental health landscape. Throughout the campaign, each Trailblazer will advocate for mental wellness and will raise at least $5,000 to support "Paving New Paths."
Learn more and participate now »
The Passion Behind the Project
The "Paving New Paths" Signature Project will promote resilience and mental wellness for children in the greater San Antonio community through a partnership with Clarity Child Guidance Center.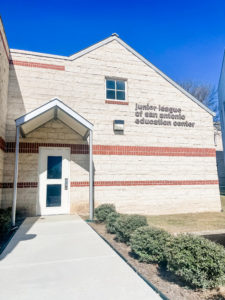 With almost 1 in 5 young people having one or more mental, emotional, or behavioral disorders, the Junior League of San Antonio, Inc. recognizes the growing need and importance to provide local youth and their families with tools to fight the statistics.
Renovation Grant to Clarity Child Guidance Center
The funds raised through this project will make a tangible impact in San Antonio.
At the conclusion of the project, JLSA will fund a grant to help renovate a building on Clarity Child Guidance Center's campus into the Junior League of San Antonio Education Center, which will provide a space to help Clarity train the next generation of caregivers and to help those currently in the profession stay current on all the latest research and topics to better care for their patients.
History of the JLSA Signature Project
In 2004, the Junior League of San Antonio's first Signature Project was designing and creating walking trails through Brackenridge Park in the heart of San Antonio as part of the 2002 Fit City Initiative. The project was borne from the JSLA's dedication to improving the communities in which we live and work.
In 2022, with the JLSA's approaching Centennial Anniversary, the League saw an opportunity to expand the reach and impact of our new Signature Project, Paving New Paths, by combining it with our Centennial celebration. A relationship with Clarity Child Guidance was formed, and the JLSA began walking alongside Clarity to blaze the path to children's mental wellness.