FAME Awards – Encouraging Performing Arts in San Antonio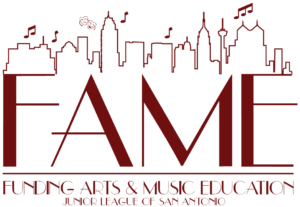 The Margaret Tobin FAME Awards began in 2015 as a way for the Junior League of San Antonio to recognize the best and brightest performing arts programs in public and private high schools in the San Antonio area. The FAME Awards are named for Margaret Tobin (1900-1989), a civic leader and Junior League of San Antonio member, in honor of her vision and generous support of the performing arts.
To compete in the FAME awards, all applicants must post a video of their performance to YouTube for judging in one of four categories: Best Theatrical Performance, Best Dance Performance, Best Instrumental Performance, and Best Vocal Performance. Three finalists are chosen in each category to compete at the awards held in the spring. The final scores are a compilation of Technical Skill, Artistic Presentation, Level of Difficulty, and Overall Performance.
The third annual Margaret Tobin FAME Awards took place on April 9, 2017. Seventy-one students across nine high schools, representing six independent school districts, competed as finalists in the 2017 FAME Awards. The winners included: Ronald Reagan High School for Best Instrumental Performance and Best Dance Performance, Earl Warren High School for Best Theatrical Performance, and Seguin High School for Best Vocal Performance.
Over the past three years, the FAME awards have given $26,000 in grants to the San Antonio area performing arts programs. $12,000 in grant money was given in 2017.
For more information on FAME and to learn how to participate, visit www.jlsa.org/fame