The Junior League Says 'Happy 90th Birthday' to Nine Leagues
Creating lasting community impact through volunteer-driven solutions to society's problems never gets old
New York – June 24, 2014 – The Association of Junior Leagues International, Inc., one of the largest, most effective women's volunteer organizations in the world, recently noted that nine Junior Leagues were formally recognized on their 90th anniversaries at AJLI's 92nd Annual Conference held in St. Louis, MO.
AJLI President Toni Freeman said, "What began as a single League founded by Mary Harriman in 1901 had gained such momentum that little more than a decade later, nine new Leagues were formed in a single year! The communities that these Junior Leagues serve have been positively impacted by the diverse and dedicated volunteers who continue to carry out the Mission of that first Junior League, a Mission that today lives on in the work done by more than 155,000 members in 293 independent Leagues in four countries."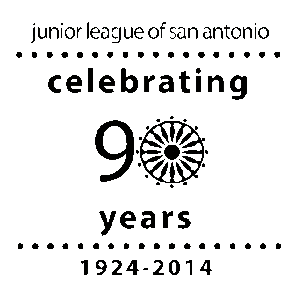 The Junior League of San Antonio has more than 1,200 members and supports over 60 non-profit community partners and agencies annually by offering volunteers and necessary funding. With yearly financial and volunteer resources valued at more than $500,000, the League and its members truly make a difference in their community. "San Antonio Works" projects provide a volunteer force of over 125 women that assist with done-in-a-day projects for community partners like the Children's Shelter, Big Brothers/Big Sisters, Ronald McDonald House and the San Antonio Food Bank. The Junior League of San Antonio also works with children at St. Peter's/St. Joseph's Children's Home, The Guadalupe Cultural Center, the SAMM Shelter, Roy Maas' Youth Alternatives and the San Antonio Botanical Center. Other current community projects include Junior Leagues' Kids in the Kitchen, Clarity Child Guidance Center, Fairweather Family Lodge, and Green Spaces Alliance.
For 90 years, the Junior League of Worcester has improved and enriched the quality of life for women and children in the Worcester area. Through a shared mission, League members work to make a difference through individual and collaborative efforts. In partnering with more than 125 area organizations, JLW and its members have touched the lives of thousands of individuals throughout its history. The earliest programs of the League included the Worcester Society for District Nursing, the Association for the Blind, and Friendly House settlement. The League's "Economy Shop" was opened in 1931. Throughout the years JLW has worked on countless programs and many focus areas, including bringing arts to children and fighting literacy and child abuse. Food 4 Thought is the current signature project of JLW, offering self-sufficiency-focused workshops to middle school girls on topics such as body image/health, self-defense, study and social skills, financial literacy, and crisis management. In addition to grants to community projects, JLW has, since 1987, awarded scholarships each year.
The Junior League of Wichita is an organization of more than 800 women. Since its founding, JLW has contributed more than $5.8 million in the form of projects and training programs and in volunteer hours valued at more than $44 million. Past projects have included bringing both Ronald McDonald House and Race for the Cure to Wichita as well as literacy programs, school drop-out prevention programs, and the Pride of the Plains Exhibit at the Sedgwick County Zoo. Child abuse is the current focus of JLW and program components include an age-appropriate puppet show to teach children how to report abuse, a mentoring program for at-risk teens, development of a website that will promote children's safety, and service to the community and to partner agencies that focus on safeguarding children from abuse.
Over the past 90 years the Junior League of Spokane has been a major force in making Spokane a better place to live. Past JLS projects include Alcohol Education and Awareness, support of the Armed Forces, restoration of the Campbell House, Court Appointed Special Advocates (CASA), Child Abuse Prevention, Learning Disabilities Advocacy Task Force, Pregnant-Parenting Teen Mentoring Project, Substance Abuse Prevention, Well Baby Clinic, and YWCA Homeless Daycare. Current programs include an annual Foster Santa Breakfast, the Farm Chicks antique show, and Kids in the Kitchen. JLS also contributes countless volunteer hours each year through Impact Spokane, the committee dedicated to making "done-in-a-day" immediate improvement to the community. In addition, JLS is a member of the Junior Leagues of Washington State, a collaborative group which advocates for statewide League programs, issues, and projects.
With a membership of over 2,200 Active and Sustaining members as well as 200 Provisional members, the Junior League of New Orleans is the 12th largest League in the world. During the past four years, JLNO has invested more than $1 million and approximately 200,000 volunteer hours for the benefit of the greater New Orleans community. Some of JLNO's best-known projects, many of which have grown into independent entities, include The Parenting Center at Children's Hospital, the Preservation Resource Center of New Orleans, and Parkway Partners. The League has also created or supported programs at Audubon Zoo, the New Orleans Museum of Art, the Louisiana Children's Museum, Charity Hospital, the Children's Art Council, and Kingsley House. Current community projects include Bayou District, Judgment Call,Junior Leagues' Kids in the Kitchen, Lafayette School Support, Lemonade Day University, Safe Sitter, and Senior League. In addition, JLNO aids local nonprofit organizations through the Community Assistance Fund, a grant program through which money is awarded to qualifying participants during two cycles each year.
Each year, the 800 members of the Junior League of Minneapolis provide their community more than 35,000 uncompensated volunteer hours, valued at more than $800,000. The League's long history is rich with diverse and far-reaching community work, including four decades of support for the Children's Protective Society (now Family and Children's Service); the founding of the Curative Workshop to assist crippled children; and collaboration with community partners on the creating of The Children's Theater, Greater Minneapolis Crisis Nursery, and Free Arts for Abused Children of Minnesota. In 2011, JLM became an issue-based League, choosing to focus on closing the Achievement Gap in Minneapolis with projects, community services, and partnerships focused on supporting parents, increasing access to quality educational programming and reducing other barriers to learning for those families most affected in the community.
The Junior League of Lexington is an organization of 675 members dedicated to improving life in "the Bluegrass." Over the course of its long history, JLL has funded and worked on numerous community projects, including Opportunity Workshop of Lexington, the Living Arts and Science Center, Chrysalis House, the revitalization of downtown Lexington, the Rape Crisis Center, the Alzheimer's Association, Lexington Children's Museum, Hospice of the Bluegrass, Central Kentucky Riding for the Handicapped, and the Hope Center for Women Recovery Program. One of the Junior League of Lexington's greatest accomplishments is the Lexington Junior League Horse Show, which began in 1937 and served as the League's only fundraiser until 2007. The show has generated over $3 million for the benefit of the Lexington community and has become a prestigious event in the Saddlebred industry. Part of the Saddlebred Triple Crown, the show runs for a week every year in mid-July, attracting exhibitors from the United States and Canada.
The long history of the Junior League of Grand Rapids began with a focus on programs to address the well-being of babies and mothers in birth, including the introduction of a "part-pay maternity plan," which allowed mothers to enter a maternity hospital on a partial-pay basis, years ahead of any public funding in this area. In true Junior League style, members continued through the years to research community needs, identify problems, and develop effective and responsive projects to address those problems. Past projects of JLGR, alone or in collaboration with community partners, have included Cerebral Palsy Nursery School, Kent County Home, The Children's Symphony, Grand Rapids Art Museum, Very Special Arts program, Adolescent Pregnancy Child Watch, Court Appointed Special Advocate Program (CASA), Kent County Healthy State, Explore with Reading, and Gilda's Club. JLGR's current focus is on support of the YWCA's Domestic Abuse Shelter, and the League's signature project, Junior League Wellness Adventure Yard (JL WAY), which introduces Grand Rapids neighborhoods to a healthy lifestyle concept through the implementation of professionally-developed local play environments that give children the opportunity to practice goal setting, build confidence, and explore concepts of cooperation and teamwork.
Throughout its 90-year history, the Junior League of Evanston-North Shore has contributed over $1.6 million to the community through projects and programs. JLE-NS has traditionally identified a need, developed a program, and trained community leaders to continue the program as a community service. The following are projects that were initiated by the League: infant wellness clinics, a dental dispensary, the Illinois Children's Home and Aid Society, the Institute for Language Disorders, Dawes House and Museum, Arts-in-the-Schools, Evanston In-School Music, Children's Agency Monitoring Program, and Young Parent Mentoring Project. In addition, the League has operated Thrift House for over 70 years. The current programs of JLE-NS include Fitting Futures, to increase the potential for low-income women to achieve economic self-sufficiency; support for Mary Lou's Place, a domestic violence shelter; Junior Leagues' Kids in the Kitchen; and scholarships for attendees of local schools.
About The Association of Junior Leagues International, Inc.
Founded in 1901 by New Yorker and social activism pioneer, Mary Harriman, the Junior Leagues are charitable nonprofit organizations of women empowered as leaders creating demonstrable community impact.
Today, The Association of Junior Leagues International, Inc. is comprised of more than 155,000 women in 293 Junior Leagues throughout Canada, Mexico, the United Kingdom and the United States. Together, they constitute one of the largest, most effective volunteer organizations in the world.