Holiday Olé Market – A Winter Wonderland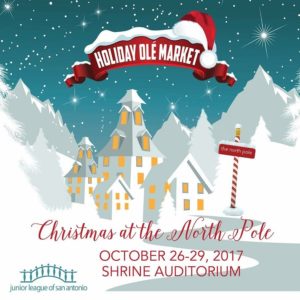 Over the last few months the hard working women of the Holiday Olé Market committee have been working tirelessly to bring this year's big event to life. This year we will be heading back to the Shrine Auditorium, where a whimsical Winter Wonderland theme will transport you to the North Pole as you shop 'till you drop!
This year's chairs for the event are Michela Cook and Veronica I. Legarreta. We interviewed them to get an idea of what this experience has meant to them and what they are looking forward to.
What are you excited about this year?
Veronica: I am excited about bringing Holiday Ole Market back to the San Antonio Shrine Auditorium and transforming the space into the North Pole!  I love that we can provide an opportunity for people and families to kick off the holidays while directly giving back to the community.
What has leading Ole Meant to you?
Michela: Leading Ole has meant more to me than any placement I've had the honor of serving within the League.  It has given me the opportunity to serve a committee of women, and working with the best Co-Chair I have ever worked with to put on the largest fundraiser of the year for the Junior League of San Antonio!
What has been the most challenging?
Veronica: What I find most challenging is balancing real life work and volunteer work!
What have you learned?
Michela: I have learned that persistence and consistency is vital for any goal to be achieved . . .and that I'll be seeing glitter for months after Ole is over!!
What are you most proud of?
Veronica: I am most proud of our committee for supporting our vision for this year's Ole and for putting in their time and effort away from their lives and families.
If you haven't already, purchase your tickets to this year's event at Holiday Olé Market and check out the parties and special shopping events for a fun girl's night out!