JLSA Culture Club 2017-18
What is Culture Club?
The JLSA Culture Club is a Facebook group that exists to allow members a place to explore, discuss, taste, and enjoy various world cultures available both in the San Antonio community, abroad, and through its members' experiences.
Our mission is to encourage acceptance and understanding of the vast diversity existent throughout the San Antonio community and elsewhere in the world. We seek to accomplish this through the enjoyment of richly multi-cultural experiences available both in our own backyard and outside of our Texas borders.
Whether you're already a world traveler, someone who is curious about the cultural diversity of our community, or just want to live vicariously through the travels of others, you're welcome to join us!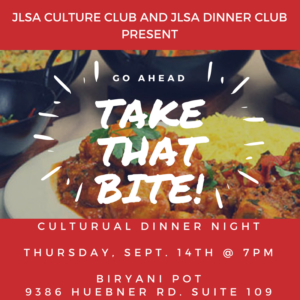 Why have a Culture Club?
We wanted to create a place for JLSA members to:
– Connect with like-minded travel and culture enthusiastic members of the Junior League of San Antonio.
– Share photos of current or past cultural discoveries both in Texas and around the World.
– Stay informed about cultural Events happening in San Antonio.
– Reach out to other members for travel advice.
– Post photos of authentic ethnic eats discovered around San Antonio.
– Follow posts about the history of our city and the great cultures that helped to make it what it is today.
When do you meet?
The JLSA Culture Club does not have regular meetings. Instead, we're a facebook page you can follow to stay posted on culturally rich events taking place in the San Antonio community.
Occasional planned events are optional to attend such as our upcomming "Go Ahead: Take That Bite! Cultural Dinner Night" or the "Diwali Festival of Lights". Members are encouraged to attend these events with friends and family. Not all events are exclusive to JLSA members.
Where do you meet?
We'll keep you posted on upcomming cultural events in the city and you decide if you want to attend.
The rest depends on our members!
Do you know of a great authentic ethnic restaurant that you want to share with the group? Let us know, and we can plan a dinner night!
Do you want to take the lead and invite members to join you at a cultural event nearby or a road trip away? Let us know and we will create the event page and help you get the event organized!
Who can I contact if interested?
The JLSA Culture Club is open to current and sustaining members of The Junior League of San Antonio. To learn more, please contact:
Andrea Collette Piascik
acollettep@gmail.com
Or simply request to join our page and see for yourself!
Any dates or plans you'd like to share?
"Go Ahead: Take That Bite! Cultural Dinner Night" is Thursday, September 14th at 7PM at Biryani Pot (9386 Huebner Rd). This event is being hosted by both the JLSA Dinner Club and the JLSA Culture Club.
By Crystal Sperber