JLSA Through The Years: Community Projects of the Past
I know for several of us, our placement has just started with activity, but it already is time to think about our plans for next year, where we would like to put our skills to use, and how we want to serve our community.  JLSA offers its members unique opportunities to serve the San Antonio community and has done so for many years.  This is a great opportunity to highlight some of JLSA's past projects and placements–several of which were created by JLSA members.  Some of these are quite fascinating and even turned into a fully supported and funded stand-alone program.
Botanical Center Conservatory-volunteers taught children about the environment through hands-on education and creative activities at the San Antonio Botanical Center.
Friends of the Aging-volunteers provided services to enhance the quality of life for the elderly through visitation, small task assistance, and mobile meal delivery and advocacy.
Medical Center Hospital-volunteers assisted hospital personnel in providing quality care and emotional support for patients and their families in areas of Labor and Delivery, Newborn Nursery, Child Life, and Maternal/Infant OB Instruction.
Marionette and Puppet Program- volunteers used puppets toentertain children and tell stories throughout the City and on televised programming, and also worked with the Children's Hospital at Santa Rosa Medical Center to provide a "puppet therapy program" to help alleviate fears of children awaiting surgery.
Witte Museum Docent-volunteers provided educational tours to school children visiting the museum.
Brighton School-volunteers provided an array of support to this school during its initial operating days in the 1970s from teaching music classes, pro
viding individualized attention to children, assisting staff, and furnishing administrative assistance.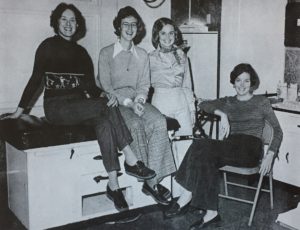 San Antonio Free Clinic-volunteers assisted doctors in all phases of the clinic's programs for gynecological and pediatric care and counseling services.
REACH-volunteers provided life skills and cultural awareness programs to the children detained in the Bexar County Juvenile Detention Center.
McNay Art Museum Docent-volunteers led tours and and lectured school children about art.
Boysville Camp Wildbeast-volunteers hosted a 2-week camp of educational and recreational activities for long-term residents of Boysville.
Easter Seal Society of Bexar County-volunteers surveyed at least 80 different buildings and areas in Bexar County, including hotels, banks, restaurants, theaters, and museums and compiled hard data for a published guide for people with disabilities  in order to highlight existing access problems to architects, officials, and decision-makers.
Healy Murphy Learning Center- volunteers worked in the reading room and offered tutoring services to this special school designed to meet the needs of high school drop-outs.
San Antonio Zoo Docent- volunteers educated children about the environment, zoo conservation, the ecological balance of nature, and the animal kingdom during the school year and at a summer zoo camp.  Zoo Docents  had to attend more than 45 hours of college level zoology training presented by professional zoo staff before being able to educate the public.
As we continue to work hard in our placements this year and look for ways to serve our community next year, let us remember JLSA's lasting legacies and think about how our current service will be reflected upon in the future.
By Chala Cripps McDonald, 2017-2018 Historian