Member Experience – Meredith Balzen
Each month, we check in with our very active JLSA members to see how their experiences are going thus far. This month we've chosen to highlight Meredith Balzen, whose spirit for fun and community drove her to quickly finish her SA Works hours. Let's get to know Meredith a little better!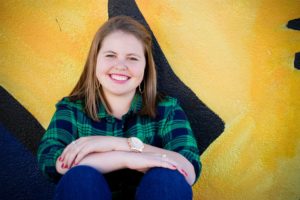 Q. How many years have you been in the Junior League?
I'm currently a new member so thus far only a few months.
Q. Why did you choose to join the Junior League?
I chose to join the Junior League because I love the sense of community leagers have! It's so fun to show up to a SA Works Shift and you already have a built in group.
Q. What community organizations did you work with to fulfill your SA Works hours?
So far I've worked with Any Baby Can, the Boy Scouts of America and the SA River Authority.
Q. What kind of duties were you asked to do?
With Any Baby Can we helped create tool kits that parents were able to take home and use with their children to help develop better social and life skills. With the Boy Scouts, we helped sign anxious kiddos into camp with their parents and at the River Authority we cleaned garbage in the San Antonio River and Olmos Creek.
Q. What volunteer position did you enjoy the most and why?
I liked helping sign in the Boy Scouts. Many were so excited to be at camp, they'd just chit chat with you while their parents did the real sign in portion.
Q. Why did you choose to complete your SA Works hours so quickly?
I chose to complete my hours because around the holidays and in February it gets busy.
Q. Favorite Junior League of San Antonio experience thus far?
I really enjoy our small cluster meetings. I like getting together with my small group and bonding over our experiences at different SA Works shifts, meetings and just getting to know each other. My mentor does an excellent job of making everyone feel included and informed – shout out to Casie!
Q. How has being in the League affected your life?
It's definitely made it more busy! The new member experience, while rewarding, adds a lot to your calendar. I really do enjoy working with our community partners. It's so interesting to learn about what our different partners are doing to make our world a better place!
Q. In the upcoming months, what are you looking forward to in your League life?
I'm looking forward to Holiday Ole. My mom was in the league when she moved to San Antonio almost 30 years ago and she always used to say that big events events like Rummage Sale is a crazy, fun experience.
Q. Tell me about yourself (work, school, family, pets, hobbies, interest, favorite wine, favorite junk food, etc.)
I'm the Communications Coordinator for the San Antonio Stock Show & Rodeo and have been with the Rodeo since 2014. I have the FUN job of managing the Rodeo's social media, website, mobile app, photography and SO much more. I grew up in the heart of San Antonio and graduated from Alamo Heights High School in 2010. After High School graduation, I attended Texas Tech University and graduated with a Bachelor's of Science in Agricultural Communications in 2013. My husband and I were married in 2015 after dating for 5 years and we both enjoy going to our lake house on Medina Lake during the summer and heading to my husband's family ranch located near Bandera, Texas during hunting season. I love a cold, crisp glass of Pinot Grigio but think the dark chocolate + red wine combination is heaven on earth!
By Crystal Sperber