Member Monday: Sustainer and 13-year Active Member, Tracey Krause
This Monday, we are featuring the Junior League of San Antonio's Sustaining Member, Tracey Krause, as part of our Member Monday series. Tracey joined the League in Las Vegas, Nevada. Tracey has been an active JLSA member for 13 years, and in total, a member for 26 years. Read more about Tracey below.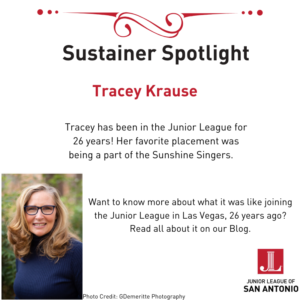 What is your hometown?
Hometown:  Born in Atlanta, GA
What motivated you to join the Junior League of San Antonio?
Motivation to join the League:  After seven years overseas as an Air Force wife, I wanted to meet new people in our new stateside city of Las Vegas, Nevada!  Funny place to live –  the Junior League there was small but extremely ambitious; many of the 200 members had two or three placements.  We had a garage sale, a gala, a cookbook – all with a pretty small group!  Provisional Assistant Trainer and Done In A Day were favorites there.
How many years were you active in the League?
Active years:  13, and a Sustainer ever since, about 26 years total.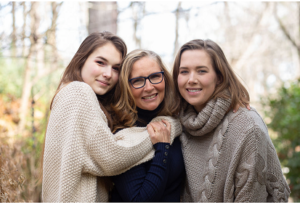 What was your favorite placement or position in the League?
 Favorite placement:  After transferring to the Junior League of San Antonio, I joined in on the Ritzy Rummage Sale, and my favorite, the Sunshine Singers!  Entertaining seniors all over San Antonio was very joyful, and my fellow Junior Leaguers were a wonderful, caring, and cheerful lot.  We often went out socially after our performances.
Favorite vacation spot?
Favorite vacation spot:  Love it all, but perhaps a Colorado ski trip is my favorite.  Europe was a wonderful place to live, especially as a young tourist, exploring eastern Europe, Egypt, Russia, France, Greece, and many parts of Spain and Germany. My older daughter, Beverly, spent a college semester in Germany, and I was able to show her many of my old favorite places.
Fun facts or tidbits about yourself?
Being a member of the San Antonio Junior League is a source of great pride.  The League has introduced so many to worthwhile projects, networking opportunities, and a chance to make a difference in our charming city.  The League attracts women who are actively working to improve our city, and it's a pleasure to be associated with such a group.
---
Want to learn more about the Junior League of San Antonio's community involvement, history, and current events? Want to reach beyond your day-to-day life and make positive changes in the city we so fondly call "home?" Interested in forming lifelong friendships that unite women with a strong commitment of purpose to building better communities in San Antonio? Find out how you can become a member here. 
---
Article by Rupal Patel