Member Monday: Sustainer Spotlight and Americus Diamond Design Specialist, Anne Farringer
This Monday, we are featuring the Junior League of San Antonio's Sustaining Member, Anne Farringer, as part of our Member Monday series. Anne is a Design Specialist at Americus Diamond and calls San Antonio her hometown. Anne has been a JLSA member for over 14 years and currently serves as the Sustaining Advisor to the New Member Committee.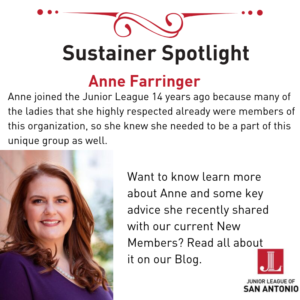 Anne recently shared her insights, advice, and stories from JLSA past with the current New Member class as a featured speaker on the Sustainer interview panel.  She noted that her fellow League members are some of the most inspirational women around because they are entrepreneurs, executives, cancer survivors, educators, Board Members, mothers, friends, and much, much more.  Read more about Anne below.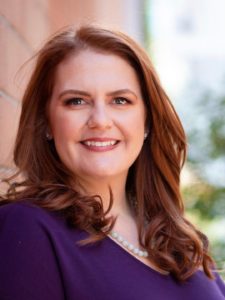 What motivated you to join the Junior League of San Antonio? 
I joined the Junior League in Dallas as soon as soon as my age allowed.  At the time, I was working for a high-end, appointment-only jewelry company, and I noticed that many of the clients whom I respected the most were part of the League. I wanted to be a part of an organization that brought together bright, interesting, and engaged women to help our community.
How many years were you active in the League?
I have been in the League for ten active years, but I have enjoyed remaining involved as a Sustainer for the last five.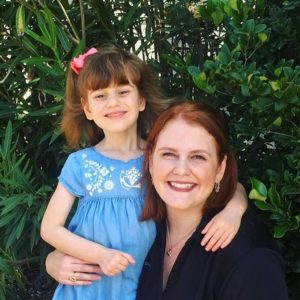 What was your favorite placement or position in the League?
My favorite placement has been Prevent Blindness.  A team of Junior League volunteers were trained to administer preliminary eye exams for elementary-aged children.  Throughout the fall, we tested children at SAISD schools for vision difficulties and abnormalities.  It was a very rewarding experience because we saw the impact of our efforts immediately.
What is your favorite vacation spot?
Any place that I can be on a sailboat!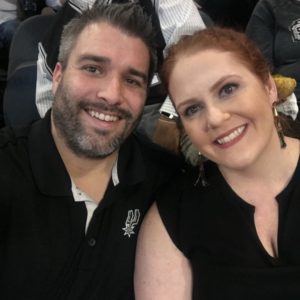 Anything else you would like to share about yourself?
I'm a mother of a spunky six-year-old Future Leaguer. I am married to my prom date.  I design all the jewelry we sell at Americus Diamond. I love that I have the opportunity to create pieces of art daily and actually make a living at it!
---
Want to learn more about the Junior League of San Antonio's community involvement, history, and current events? Want to reach beyond your day-to-day life and make positive changes in the city we so fondly call "home?" Interested in forming lifelong friendships that unite women with a strong commitment of purpose to building better communities in San Antonio? Find out how you can become a member here. 
---
By: Rupal Patel