Member Monday: Sustainer Spotlight and Filmmaker, Marti Nonemaker
This Monday, we are featuring the Junior League of San Antonio's Sustaining Member, Marti Nonemaker, as part of our Member Monday series. Marti is a former NEISD administrator, writer, and international filmmaker. Read more about Marti's exciting JLSA beginnings below: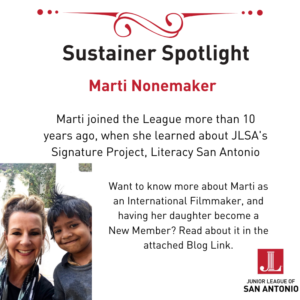 Where is your Hometown? 
Martin, Tennessee – Where I grew up, graduated from college (University of Tennessee at Martin), and met my husband.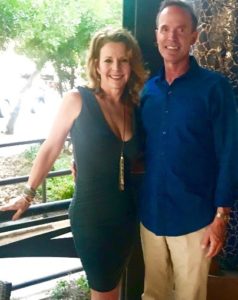 Marti and her husband of 35 years.
What motivated you to join the Junior League? Is San Antonio your "home League"?
In 2008 I was working as an administrator with NEISD in a program for at-risk youth. I heard Celina Montoya speak at a luncheon about JLSA's new Signature Project, Literacy San Antonio. Immediately, I wanted to be part of the new program and the Junior League of San Antonio. One problem, according to the bylaws, I was too old to join. 
Fortunately for me, the Board at that time recognized that it was time to modernize and allow eager young ladies, as well as older, empty-nest, experienced women to join JLSA and serve our community together.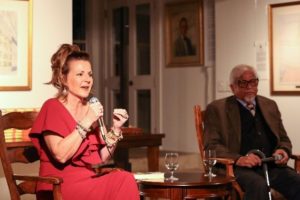 Marti, with Arun Gandhi (grandson of Mahatma Gandhi), announcing the release of Guided By Gandhi.
How many years were you active in the League?
I was only active for four fabulous years before becoming a Sustainer.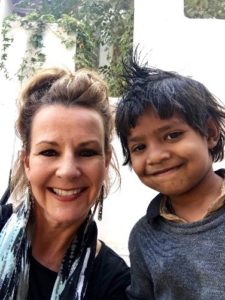 Marti filming, Guided By Gandhi, on location in India.
What was your favorite placement or position in the League?
It was very exciting to be in the League in the beginning as Literacy San Antonio began to take shape, which then, evolved into SAReads. I am extremely grateful to the members whose vision launched this project to serve our city's children. I am in awe that SAReads has grown into a top TEA recognized literacy program that serves students and teachers statewide. I will forever be proud to have been a small part of this wonderful program.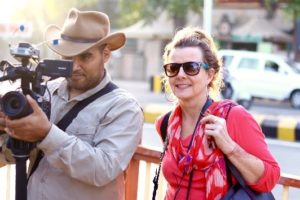 Marti filming, Guided By Gandhi, on location in India.
Favorite vacation spot?
Anywhere that I am with my family – my husband John, daughter Megan, son Jay, and his amazing husband Nicolas.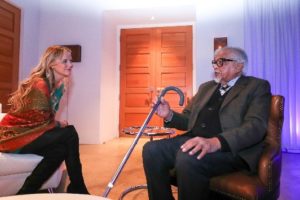 Marti's daughter, Megan, with Arun Gandhi (grandson of Mahatma Gandhi).
Fun facts or tidbits about yourself?  
Lately, I've been staying busy. For the past year and a half, I have been working with my good friend, international peace activist Arun Gandhi, as the producer/director on a documentary film, Guided By Gandhi. The film features Arun, the 86 year-old grandson of Mahatma Gandhi, as he travels the world spreading his grandfather's message of non-violence and meeting those who are 'being the change' for good in the world. We filmed last year for an entire month in India, as well as in Canada, Israel, and several locations across the US. The film is currently in post-production and will be released in 2021.
Any advice for future members, and current Actives?
I love watching JLSA grow with new members and evolve to best serve the needs of our community. As a military spouse for 30+ years, I love seeing more and more active duty soldiers and spouses being welcomed into the League every year. This year, I am especially thrilled that my daughter, Megan, has joined as a prospective New Member and will have the incredible opportunity to be a part of an amazing group of women serving a wonderful organization.
---
Want to learn more about the Junior League of San Antonio's community involvement, history, and current events? Want to reach beyond your day-to-day life and make positive changes in the city we so fondly call "home?" Interested in forming lifelong friendships that unite women with a strong commitment of purpose to building better communities in San Antonio? Find out how you can become a member here. 
---
Article by Rupal Patel