Member Monday: University Hospital Assistant Chair and Part-Time Hospice Chaplain Windsor Naething
Every Monday, we spotlight a Junior League of San Antonio member. This week get to know transfer member Windsor Naething. Windsor is a part-time hospice chaplain and is working towards her Master of Theology at Fuller Theological Seminary. Currently, Windsor is the Assistant Chair for University Hospital. Windsor is a transfer from The Junior League of Albuquerque, NM.
Top 5 Strengths:  Belief, Positivity, Empathy, Woo and Communication.
My husband, Rick, and I live in Helotes with our dog, Deacon, and have officially been back in Texas for one year now. We have loved exploring San Antonio and the surrounding towns. Rick and I are in the process to be licensed as foster parents and hope to complete our home study this fall and have some kiddos with us soon after. I work part-time as a hospice chaplain, and my career goal is to work as a chaplain in a children's hospital.  I am also working on my Master of Theology at Fuller Theological Seminary to meet requirements to be a Board Certified Chaplain (BCC).  My placement this year is the Assistant Chair for University Hospital. I am thrilled that we get to work with the Child Life Department! Bringing relief, joy, and some sort of normalcy to hospitalized children and their families is incredibly important. I am thankful I can represent The Junior League of San Antonio while I volunteer.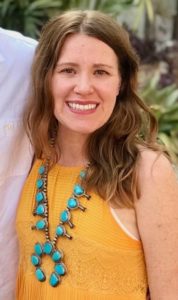 I joined the Junior League in Albuquerque, NM when my husband, Rick and I moved there for his job. I wanted to make friends and get plugged-in to our new community. I knew the Junior League would be a great way to do this. I was a member for about six and a half years there and transferred my membership when we moved to San Antonio in 2018. There are many organizations that can provide volunteer opportunities and friendships, and I chose to stay a part of this organization because I believe in our mission. A  past position  that I held was the Chair for Membership Recruitment / Development. It was then that I finally looked up what "voluntarism" meant (I mean, I was going to be promoting it, so I probably should be able to define it, right?). It is the belief that change within a community can be accomplished through voluntary action. How cool is that?! Gaining a deeper understanding of what we stand for and then sharing it with current and potential members ignited much more excitement in me for our mission, and for using what I gain in Junior League out in the community.  I hope to one day serving on a non-profit board in the community and I think that the training that The Junior League of San Antonio provides for women interested in board membership is awesome. The training provided and the belief in the impact that we are making are the reasons I would encourage women to join. The friendships and camaraderie are a great bonus! 
---
Want to learn more about the Junior League of San Antonio's community involvement, history, and current events? Want to reach beyond your day-to-day life and make positive changes in the city we so fondly call "home?" Interested in forming lifelong friendships that unite women with a strong commitment of purpose to building better communities in San Antonio? Find out how you can become a member here. 
---
By: Chrissie Johnson