Placement Spotlight On Our New Member Committee
We are excited to feature the Junior League of San Antonio's New Member Committee. The New Member Committee is a committee under the Membership Development Council. Read more as Elizabeth Logsdon, the New Member Vice Chair, details the New Member Committee below: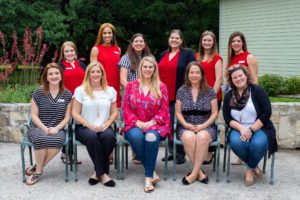 What is the greatest / best part of this placement?
It is exciting to get to know the future leaders in our community and within the League. We enjoy seeing their enthusiasm coupled with an eagerness to learn all aspects of the Junior League of San Antonio and our community partners that we serve.
What is your favorite committee event?
The New Member Project, because the whole class is working together on a project where you see an immediate impact.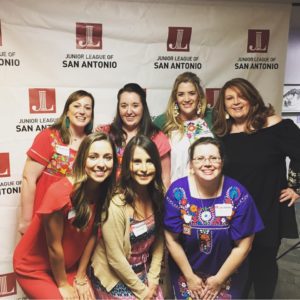 What skills does a mentor develop in serving in her role?
Public speaking, interpersonal communications, event planning, problem solving, and time management.
How many mentees does the average mentor have?
The average is about 10 mentees per mentor.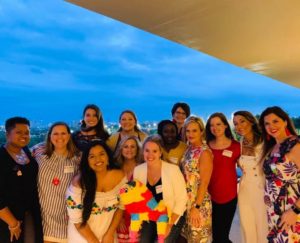 Vice-Chair Question: What is your proudest moment as the Vice Chair of New Members this year?
My proudest moment would be executing a new virtual meeting option for Large Cluster 2. The main meeting was held at the JLSA office, but it was also live streamed and broadcasted at various mentor homes across town. The New Members could choose which location to attend based on what was convenient for them. It took many hours of planning in advance and testing to make sure the technology worked (and there were a few hiccups); but ultimately it worked out well. It was a great solution to hosting a meeting for 100 people without having a large enough space available. I hope to see the League use this option again in the future!
What is a typical week like for the Vice Chair of New Members?
A week of work entails planning the next Large Cluster, social event, or writing the agenda for the next Small Cluster. It could also entail answering emails and questions from the Membership Development Council Vice President, Mentors, and New Members. It is also important to keep Mentors aware of any New Members that might need assistance or encouragement.  We also try to alert our internal support committee—AMIGOS—to any New Members that need support. We provide reminders and updates to the New Member Facebook page. Basically, a hodge-podge of event planning, organizing, supporting, and social media engagement!
What is a typical week like for a Mentor?
A typical week may include answering questions and sending texts / emails to keep all mentees informed. On average, we typically attend or hold one New Member meeting / activity per month.
Is there anything else you'd like to share about your committee?
The New Member Committee is another vital piece of the JLSA puzzle that plays a vital role in the big picture. Shaping the New Member experience is a crucial part to the success of our League. We work diligently to make sure that our New Members feel that their efforts and time are valued and appreciated. We are here to share everything that League has to offer.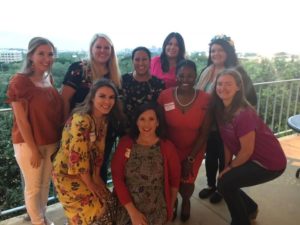 The New Member Committee is made up of Monica Albertius, Rebecca Burshe, Nicole Drake, Hillary Everts, Crystal Fuller, Sara Geissler, Kristen Guinn, Chelsea Lindsey, Kelly Rankin, Danielle Rushing, Julianne Reeves, and Elizabeth Logsdon.
---
Want to learn more about the Junior League of San Antonio's community involvement, history, and current events? Want to reach beyond your day-to-day life and make positive changes in the city we so fondly call "home?" Interested in forming lifelong friendships that unite women with a strong commitment of purpose to building better communities in San Antonio? Find out how you can become a member here. 
---
Interview by Kristy Pacheco.
Article by Rupal Patel