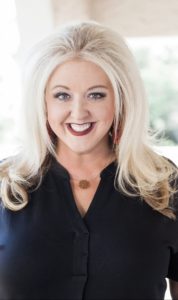 I have faith in you . . . probably one of the more powerful and sincere things you can say to someone. 
When I was considering applying for the role of President of the Junior League of San Antonio, I called upon a friend to help me decide if this was the right decision, if I was the right person for the position. Her words "I have faith in you" encouraged me to take the leap.
We, as women, oftentimes get so caught up in the day-to-day getting ahead, taking care of others, advancing in our careers, growing our businesses, trying to make our mark on the world. We get so busy that we often forget that the greatest gift we can give someone is the gift of empowerment. We should be cheering each other on, offering a hand to our fellow women.
As we are climbing those ladders of success and breaking those glass ceilings, we must have one hand on the rung and the other hand behind us pulling someone up. Showing them the path, encouraging them, and empowering them to be their absolute very best. If we see someone struggling, we must reach out to offer a hand.
If it wasn't for someone having faith in me, empowering me, pushing me to do more, I would probably never be here, as President, representing the Junior League of San Antonio. I am so thankful for this individual. I am so honored and humbled to serve our community as the President for the 2020-2021 League year. 
Our 97th year of the Junior League of San Antonio will be a year of empowering each other and traveling new paths. It will be an unprecedented year, no doubt. The Junior League that we all know and love will look very different from that in the year's past, but that is okay. Change is a good thing. We must mold ourselves to the current and changing times. 
In this time of uncertainty, our mission has not changed. The Junior League of San Antonio is still an organization committed to our members and our community. We may not all be in the same boat but we are all enduring the same storm. Fortunately, we get to weather the storm together as a league and as a group of women committed to the San Antonio community. 
From the very bottom of my heart, I thank our members for their service and their time. I look forward to serving alongside my fellow League members throughout the coming year.
Courtney Ringelstein
2020 – 2021 President
Junior League of San Antonio