Sustainer Spotlight: Childhood Friends and JLSA Sustainers, Barbie Walther and Pamela Toman
Today, we are featuring the Junior League of San Antonio's Sustaining Members, Barbie Walther and Pamela Toman for our Sustainer Spotlight. As childhood friends, these two sustainers have shared many experiences in their decades-long friendship, but their development of Literacy San Antonio may be one of their most important collaborations.  Read more about their contributions and friendship below: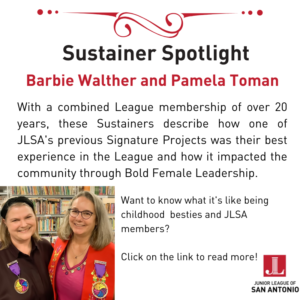 After growing up in San Antonio, Pamela returned to the city in 2006 from California, where she spent several years as a member of the Palo Alto-Mid Peninsula Junior League. Pamela quickly found a placement that would make a significant impact on her hometown. Together with JLSA Past President Celina Montoya, they co-chaired the JLSA Signature Project. Pamela was instrumental in developing Literacy San Antonio, formally known as SAReads. Celina and Pamela, together with their team, first identified the need for literacy resources on the city's West Side, and by 2010 turned Literacy San Antonio into a fully functioning nonprofit. Barbie joined the team in December 2018 and was essential in restructuring Literacy San Antonio's already established annual book drive, a partnership with Barnes and Nobel, and their close partnership with Texas A&M – San Antonio. The program recently acquired the prestigious distinction as a Texas Education Agency (TEA) Authorized Provider, which will bring TEA endorsed reading trainings to San Antonio teachers. Looking ahead, Barbie and Pamela want to focus their efforts on educating and training more teachers in the science of reading.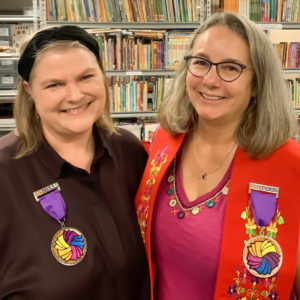 Barbie and Pamela in the Book Bank at the SAReads office. (Wearing 2020 Fiesta Medals made in honor of SAReads 10th year anniversary.)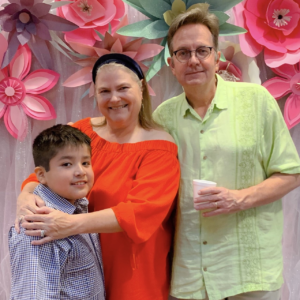 Walther Family: Cooper (9) Barbie and Christopher
Walther Family: Summer travels to the West Coast. Photo taken at the Seattle Museum of Flight.
Barbie joined the JLSA in the 1990's, and has fond memories of the Rummage Sale as well as her placements as New Member Mentor and Events Chair.  She joined JLSA as a way to give back to her community and to make new friends. Barbie appreciates the league for training women to work together towards a common goal, the way she and Pamela collaborated on building Literacy San Antonio. She encourages today's membership to "get involved and not to be scared to take on leadership roles," And she advises Actives to "find a placement that suits your interests."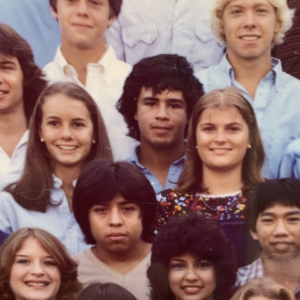 Long time friends since middle school… photographed together in the AHHS Class of 1982 class photo.
Those pictured left to right: Pamela Richardson Toman, Katie McGee, Kate Parish Lanfear, and Barbie Bostick Walther. 
It's impossible to overestimate how different my life is after my placement in the JLSA," reflects Pamela. "The Signature Project placement completely changed my life. Prior to transferring to the JLSA, I was a marketing director at an international technology company. My work in the JLSA transformed me into an education advocate, a nonprofit founder/director and -most importantly – a social justice advocate for children. This has impacted every aspect of my life, and I hope it's impacting the lives of thousands of teachers and children as well. All of this stems from my placement as chair of the JLSA signature project in 2006."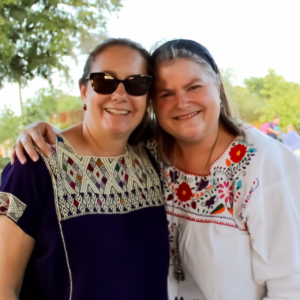 Friends in Action at the Botanical Gardens… End of year celebration for the students in our tutoring program.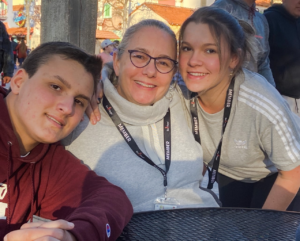 Toman Family: Will (15), Pamela, and Grace (17); Not in Photo: Husband, Troy
While sitting together at their childhood hangout, Bombay Bicycle Club, on North St. Mary's St., the quote "Never doubt that a small group of thoughtful, committed citizens can change the world; indeed, it's the only thing that ever has," by Margaret Mead, was a common theme throughout our conversation.  Pamela and Barbie's friendship and service to both the League and our community through JLSA's Signature Project speaks to the heart of what the League is all about, which is service for others.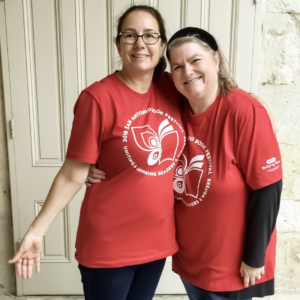 Friends in Action at the San Antonio Book Festival…Our South West ISD students in our tutoring program are VIP's at this event. Students introduce authors and enjoy the day immersed in literature.
Friends in Action: SAReads participated in Light Up Downtown.
---
Want to learn more about the Junior League of San Antonio's community involvement, history, and current events? Want to reach beyond your day-to-day life and make positive changes in the city we so fondly call "home?" Interested in forming lifelong friendships that unite women with a strong commitment of purpose to building better communities in San Antonio? Find out how you can become a member here. 
---
Article by Rupal Patel