The Heart of a Servant Leader: An Interview with JLSA's First Hispanic President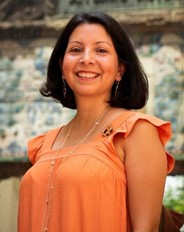 Anna-Melissa Cavazos, JLSA President 2009-2010
As the Junior League of San Antonio, Inc. (JLSA) begins celebrating Hispanic Heritage Month (September 15-Ocotber 15), we would like to honor and thank our first Hispanic president, Ms. Anna-Melissa Cavazos (2009-2010). Through her leadership and vision, the JLSA paved a new path for the women who continue to follow in her footsteps.
Anna-Melissa, currently Major Gifts Director for University Health Foundation, recalls her tenure as the JLSA president with a warm heart and a bright smile. When she was initially approached to become a member of the Board of Directors, she was excited and ready for a new challenge. Past JLSA president Ms. Karen Greenwood encouraged Anna-Melissa to get more involved because she saw the value this experience could bring to the JLSA, the community, and this future President.
I recently had the opportunity to visit with Anna-Melissa to reflect on her time at the helm and give insights into her experience:
How did you first hear about the JLSA? 
I was always aware of the Junior League and its service to the community but had not thought about becoming a member. During my time working at the American Cancer Society, while managing my first Cattle Baron's Gala committee many of the volunteers were JLSA members. Anna-Laura Howell Block was one of the committee members and asked me if I had ever thought about joining. I remember at the gala wrap-up party, Anna-Laura handing me the membership information to think about and offered to be my sponsor (a requirement for membership at the time). She is one of the kindest and coolest persons I had met so I knew the JLSA had to be a great organization. Learning more about San Antonio and serving the community were the main reasons I decided to join this organization with a proven record of making a difference.
How long were you an active member before you became the president of the League? 
I joined JLSA in 2000 and had time to participate in community placements, serve new members as a mentor, serve on the nominating committee, and hold a couple of board positions before I had the opportunity to accept the President-Elect position. When I was a provisional member, we were required to attend a board meeting and I recall the first one I attended in the Board Room at the Bright Shawl. Watching these strong, vibrant, intelligent women speak so passionately about goals and projects fueled my passion for getting more involved within the organization. These amazing women came from different backgrounds and experiences; each one felt a strong passion to serve the community in and an every way possible. I was 26 years old then and had no idea that 10 years later, I'd be at the head of that table serving as President. This makes me smile thinking back to that time.

Cavazos with other JLSA members during a community activity 


What was your experience like as the first Hispanic president of JLSA? 
I mentioned that my main reason for joining the league was to volunteer in the community. I have gained so much more than I could have imagined from developing my own potential as a leader to the many friendships I made. Being President taught me so much about working with women of varied backgrounds and experiences that make our league special. It was truly an amazing experience. Working with such a dedicated group of women who were not only able to balance a family and career, but continuously gave us the vision and energy our organization needed to thrive.
Was it an easy transition for you? 
My transition into the presidency came and then before I knew it my term was complete – it goes by so fast. Having served in various leadership positions in the league prior prepared me, as well as the time you spend thinking about your term when you are added to the nominating side as the President-Elect-Elect. The league succession planning is excellent in preparing future leaders. The league conferences and trainings I had the opportunity to attend, and just learning from the Presidents that came before help prepare you. The support I had of my employer at the time and my family and friends made it the best experience I could have had. You never really know what challenges may come but being mission driven with a positive attitude is valuable.
What did you learn about the JLSA community while in this position? 
During my time with the JLSA, I learned that each woman in the league is brilliant and has a passion for serving the community. They have strong ideas and truly enjoy collaborating with other like-minded individuals to maximize the positive impact we have on the community. This group of women dedicate their lives to finding a balance between family, career, and community engagement.
What was your greatest accomplishment during your tenure? 
I tried to engage with as many members as I could and serve the other board members and committee members as best I could. You always have learning opportunities and never enough time to get everything you want done, but you can give as authentically of yourself as you can. I hope that was an accomplishment to inspire others to want to serve in leadership roles. I am proud of where the league has come, always keeping the mission at the forefront of decisions.
What is your favorite memory as President? 
It would be silly to say that I enjoyed my JLSA "office" day and eating the Bright Shawl burger every Monday but that would be true! Every week in what was then the President's room, I'd sit in there with my laptop to work on League business and would stare at the Past Presidents' photos on the wall, focusing on someone different each week and wonder about her experience. I am proud to be a part of this legacy.
What would you say to a member who is thinking of running for President or a leadership role?
Get involved. Say 'yes' to those opportunities. Not only should you focus on helping yourself get to your goal, but you should help those around you. There are enough opportunities for each of us to shine, so help your JLSA sister reach their goals, too. It is nice to see women supporting other women.
What do the next 10 years look like for you? 
My goal is to just be as present and authentic every day in whatever I am doing and try my best and try again the next day. I have a group of friends that I am always saying that I just want to work for a Joy Factory! So maybe figuring out what that is is exactly in my future plan.
—–
We cannot thank Ms. Anna-Melissa Cavazos enough for her dedication and vision during her time as the first Hispanic President of the Junior League of San Antonio. She paved the way for other women who admire what she has done and continues to do so as a servant leader. If there is an opportunity for Anna-Melissa to get involved in her community or to help an individual, she will. Being a servant leader means so much more than helping in her free time; it means connecting with the organization or individual and learning their story.
The Junior League of San Antonio seeks to empower women of all backgrounds not only to seek positions of leadership within the JLSA but also positions of leadership within the City of San Antonio and beyond.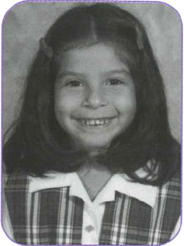 Anna-Melissa as a young girl with a bright future and a smile to match
Interview by Dr. Emma Santa Maria, Communications Liasion