The League is in Good Hands: 2019-2020 Leadership Retreat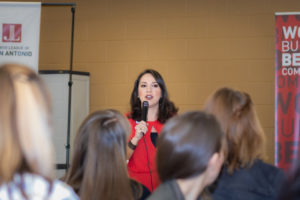 The incoming leaders for JLSA gathered on April 13, 2019 at St. Matthew's Catholic Church to receive leadership training for the upcoming 2019-2020 year.
The 8:30 a.m. conference kicked off with our 2019-2020 President Yvonne Addison and President-Elect Courtney Ringlestein introducing the official theme and hashtags for the new League year. Addison's love for science and space is evident in our #missionjlsa and #liftoffto100 social media tags.
The Parish Hall was beautifully decorated with red and white balloons and tables organized by council. Each table setting displayed customized table tents with individual members' names and top five CliftonStrengths. The bond between members was evident as the room filled with laughter and chatter; however, as soon as the first speaker took the stage, all attention was given to the business at hand.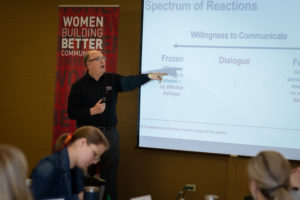 David McMurray, President of Western Div. Insight Management Consulting, presented an insightful presentation on the power of perception. His presentation emphasized the importance of healthy communication built on a foundation of respect. There were numerous breakout sessions, which allowed the councils to work amongst themselves to identify and practice techniques.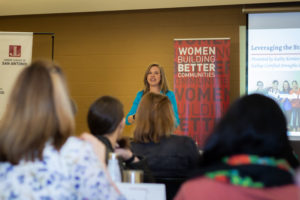 The second guest speaker was League favorite Kathy Kersten, CliftonStrengths Coach with Kersten Consulting, LLC. She has been involved with the League for years providing insight on our unique Strengths combinations. The CliftonStrengths movement has been embraced by League members and was evident with the level of engagement during this session. Several members provided examples of ways for us to work efficiently by understanding the power of our individual strengths.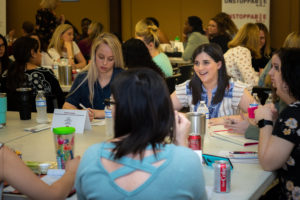 It came as no surprise that our League as a whole is made up of 38% Achievers. This characteristic is defined by people who take great satisfaction from being busy and productive, and no doubt contributes to our success as an organization. The importance of this annual conference is to help equip the incoming leaders of the League with skills to continue our mission, and there is no question the work for 2019-2020 has already begun.