2021-2023 Volunteer Extraordinaire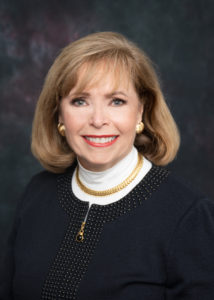 Jessie Mathis Kardys is a native San Antonian. After graduating from Thomas Jefferson High School, she earned her Bachelor of Science Degree in Elementary Education with Highest Honors from the University of Texas at Austin in 1970.
Jessie joined the Junior League in 1972 as a transfer-provisional in Montgomery, Alabama, where her husband served as a lawyer in the Air Force. As an active member, she studied community organizations assisting children. She also taught in a variety or teaching and learning environments.  It was during this time that her passion for helping young families and identifying children's strengths for optimal learning was born.
In the Junior League of San Antonio (JLSA), Jessie was fortunate to find research underway for a community project involving parenting and was inspired by training with community professionals.  As her League placement, Jessie taught workshops for parents and later chaired the Young Family Resource Center (YFRC) Project at the University of Texas Health Science Center School of Nursing. Finding a permanent home, the YFRC merged with the Family Service Association where Jessie and other League members served on the Board of Directors.
Jessie served in many roles in the Junior League of San Antonio, including service on the Board of Directors as Management Coordinator, Treasurer, Finance Council Chair, and Sustaining Advisor. Jessie believes the greatest gifts she received from the JLSA were the opportunities to learn from visionary League and community leaders, develop new skills, help people in need, and create life-long friendships.
Outside of her involvement in the JLSA, Jessie served as Treasurer for the Battle of Flowers Association, the Alamo Heights School Foundation, the Alamo Heights High School PTSO; the Cancer Therapy and Research Center Inaugural Gala, and Billing Treasurer for the Charity Ball Association.  She also served as President of the Kappa Alpha Theta Alumnae and the Laurel Heights Garden Club.
Jessie had the pleasure of chairing the 2004 Battle of Flowers Parade, "A Kaleidoscope of Texas", honoring the peoples of Texas with the President of the Canary Islands serving as Grand Marshall and serving as Mistress of the Robes for the 2008 Order of the Alamo Coronation.
Jessie's great privilege was to work with three JLSA Volunteer Extraordinaires – Patsy Steves, Maggie Block, and Edith McAllister — as the National Trust for Historic Preservation established the Villa Finale Museum in King William.  With their guidance as members, Jessie chaired the Villa Finale Advisory Council from 2006 through 2010 and the Opening Celebration in 2010.  After completing "The Legacy of Walter Nold Mathis" Video, Jessie received the Walter Nold Mathis Preservation Award in 2021. Jessie continues her focus on education and preservation with The Friends of the Texas Governor's Mansion Board and Villa Finale: Museum and Gardens.
Jessie is married to Richard Kardys who served as Executive Group VP at Frost Bank before his recent retirement. Jessie and Richard enjoy sports, hands-on work with Snak Pak 4 Kids, and actively support church, education, and philanthropic efforts in San Antonio and Texas. They have two sons and daughter-in-laws and four grandchildren.