2020-21 VOLUNTEER EXTRAORDINAIRE
Sharon Bell Seal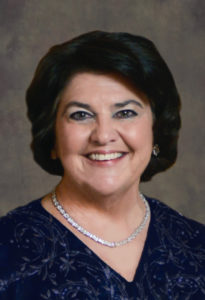 Sharon Bell Seal is an extraordinary and thoughtful business owner, volunteer, mentor, leader, and a friend to many in our community. During her Junior League of San Antonio career, she led the Admissions/Provisional Class as Chairman, Chairman of Membership Development, and was a Project Supervisor, Board Member at Large, and Sustaining Advisor. Sharon served as a dynamic and loved Junior League of San Antonio President in 1996-1997.
Sharon is Chief Financial Officer and fourth generation co-owner of Bell Hydrogas. A dedicated leader and member of the Executive Board of Directors in the Charity Ball Association of San Antonio, Sharon also served in leadership in numerous capacities with the Battle of Flowers Association and other civic organizations. She served as a Board Member and President of the Methodist Hospital Foundation Round Table, and served on many Board of Directors such as Respite Care of San Antonio, Los Compadres, and co-chaired the Mission Road Shindig twice. Following her passion, Sharon is a founding Board member of Summer Dreams and Camp Honey Creek for Girls in Hunt, Texas. Professionally she has been a leader and District Director of the Texas LP Gas Association.
Sharon and her husband Stuart raised two lovely daughters, Marianna and Virginia. A graduate of the University of Texas at Austin, Sharon mentored, supported, and led Kappa Alpha Theta Fraternity at UT, and is Past President of the Kappa Alpha Theta Alumnae – San Antonio, and was bestowed with KAT's highest accolades. She was involved in the Alamo Heights PTO, and at First Presbyterian Church as a Sunday School teacher and Mentor.
Sharon is honored and humbled to be counted among the prestigious Volunteer Extraordinaire past recipients as they welcome her into its ranks.