1988-89 Volunteer Extraordinaire
Mrs. Candes Chumney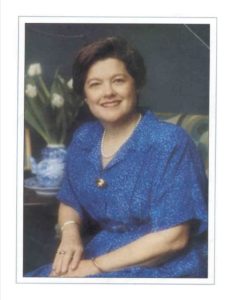 Candes Chumney personifies all that the Junior League can develop in a person.  By nature an entrepreneur, an initiator, and an innovator, Candes learned that devotion to an ideal can result in success.
This extraordinary volunteer's long list of community activities is impressive and varied.  A quick glance at her resume reveals that her involvement represents years of continued dedication and service to San Antonio.
A San Antonio native and granddaughter of one of the JLSA founders, Eleanor Herff Venable, Candes Parker Chumney is the youngest of four children.  "As the youngest, I think my parents were a little tired by the time they got to me," she laughs.  "I learned to be resourceful in getting the things I wanted done accomplished."
She credits her parents with feeding her curiosities and allowing her to always purse her interests.  They also taught the four Parker children to appreciate the differences between people, rather than focusing on gulfs between races and cultures.
These philosophies naturally propelled Candes to investigate and appreciate all she could about the world surrounding her.  It seems only natural that the course of her life has led her to assist so many groups in the community.
One vehicle for this was the Junior League.
"When I first joined the Junior League in 1963, I decided that each placement I picked would have to be something I genuinely wanted to learn about," she comments.  Through the years, these interests took on a movement toward the arts and included such placements as McNay Docent Chair, Metropolitan Auditions Chair, Gallery Treasurer, Arts in the Schools, and Assistant Provisional Chair.
As with so many of her projects, one year of involvement soon became a lifetime.  "I've spend ten years with the Metropolitan Auditions, both as a placement and as a volunteer," Candes says.  This dedication to opera, a love of hers since childhood, prompted Mag Tobin to ask Candes to replace her as Regional Chair of the Metropolitan Opera National Council, a position she has held since 1979.  Candes success in leading the always-popular Metropolitan Opera Auditions has meant that other Texas Junior Leagues count on her help to oversee their programs.  Thanks to her involvement, the JLSA can call the Regional Met Auditions a project of our own; they take place here every year.
The benefits of being a Met Auditions Committee member and Regional Chair are sweet.  Candes and her husband Pat get to travel to New York City two or three times each season to witness the beautiful fruits of her labor of love.
Beyond her selfless devotion to opera and the arts, another very important asset to San Antonio's community grew out of Candes Chumney's involvement with the Junior League.
What is now known as the Funding Information Library, a source of information about Texas foundations.  A joint project with the Junior League and the Minnie Stevens Piper Foundation, the library provided a place to get information on sources for possible funding.  "I had served on lots of boards and committees, and invariably there was a question on "Where do we get sources for funding?" I realized it was time for one central location to carry that information," Candes explains.  It is true to form that Candes set out to fill a need.  After two years of research, the Library was founded and staffed by League volunteers.  As the library grew, Candes learned that many nonprofit organizations were in need of management skills.  Thus the library expanded its services to include publications, consultation, and a Management Assistance Program (MAP).  The library renamed itself as the Funding Information Center.
"I fully credit the Junior League with all the on-the-job training I ever received in management skills.  One of the Junior League's strengths is that members are allowed to have jobs that teach them about these skills, and as each one is mastered, another more difficult one is available next year.  You are allowed and encouraged to grow with your abilities," she notes.
After five years, the Center had flourished into a self-sustaining organization, just at the time Candes became a sustainer:  "Suddenly, I was offered a job with the center as Executive Director.  I thought, "I don't want a full-time job.   But my husband reminded me that I was already putting in over 40 hours a week there anyway, why not get paid for all the work I do?"  She continues:  "I now realize that I was unconsciously searching for something to fulfill me.  At the center, we teach nonprofit groups about organization, public speaking, research and development.  We put profit entities together with not-for-profit entities.  People need us!"
Another exciting San Antonio arts project of Candes' is one that is relatively new to the city.  It is a program called Very Special Arts Festival, and Candes sits on the Board of Directors.  "Very Special Arts is a wonderful program designed to introduce the fine arts to handicapped children and adults, both on a participatory level as well as an appreciatory level," she explains.  The program's first "high-profile" activities occurred during Christmas, 1988, when North Star Mall devoted its community activities throughout December to the cause.  "I'm so glad I'm able to help put the right people in touch with each other to help programs like this become successful," Candes adds.
This extraordinary volunteer has spread her vast talents into other areas as well.  Candes was the founder of the Symphony's Junior Committee which was developed in 1966 in an effort to involve young adults in the Symphony's activities.  Candes initiated the organization:  "We called some of our friends, made the price right for young couples and before we knew it, we had a membership of 100" she says.
The educational program's success soon expanded into programs for children and adolescents.  One of her favorites involved inviting young musicians (ages 5).