Centennial Flavors Cookbook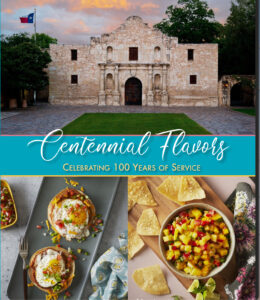 The Junior League of San Antonio proudly presents Centennial Flavors, a cookbook commemorating one hundred years of serving the San Antonio community. Within these pages is a delightful collection of more than 150 fresh, modern recipes that is as varied and colorful as the history of our beloved city. Additionally, we highlight some of our most significant history and community partnerships that have helped shape the arts, culture, and philanthropy in the Alamo City.
Recipes for every occasion—from gatherings with friends and family to easy weeknight dinners—are the focus of this book, and we hope that you will treasure these recipes as much as the members, community partners, and restaurants who submitted them!
Cookbooks will arrive in October 2023.
Cookbook pre-sales will continue at general membership meetings. Copies will sell for $29.95 plus sales tax and will be ready for pick-up in October 2023. Be sure to reserve yours today! If you have questions, please e-mail the Cookbook team at cookbook@jlsa.org.
Take a Sneak Peek at the Cookbook:
Our Cookbook will contain the following categories:
Appetizers
Beverages
Breakfast and Brunch
Soups and Salads
Mains
Pastas
Sides
Desserts
Cocktails and Mocktails
Photography Credits: Mitch Magnuson Photography, with food styling done by Ali Mendez-Clayton
Additionally, the Cookbook will contain recipes from local restaurants, historical facts about the Junior League of San Antonio, sights of San Antonio, and healthy recipe hacks.
*Please note that not all submitted recipes will be used in the Cookbook, but all contributors will be recognized in the book.
Contact Us
Questions? Want to get involved? Simply email cookbook@jlsa.org with your question or request!