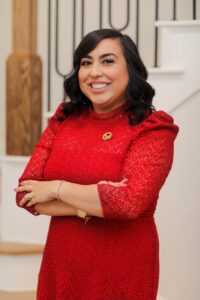 Today marks a momentous occasion for our esteemed organization as we joyously commence our Centennial Year! A century of dedication, compassion, and transformative impact is worth celebrating, and I am thrilled to share this exciting milestone with each and every one of you. 
The Junior League of San Antonio has come a long way since 1924. Over the past 100 years, we have continuously strived to make a difference in the lives of individuals and for the betterment of our beloved community. We have faced challenges, overcome obstacles, and achieved remarkable feats. As we now enter this new chapter, let us honor the legacy of our founders and the members who came before us, whose vision and unwavering commitment have paved the way for our success.
This Centennial Year offers us a unique opportunity to reflect on our achievements, express gratitude to those who have been part of our journey, and inspire ourselves for the future. It is a time to reaffirm our core values of leadership, voluntarism, and developing the potential of women. As Junior League members, we are empowered to be agents of change, and our collective efforts have the power to shape a brighter tomorrow.
Throughout this momentous year, we have an exceptional lineup of activities and initiatives planned to honor our Centennial. From special events and volunteer projects to commemorative publications and historic exhibits, we will showcase the immense impact we have made on our community. It is through these celebrations that we will not only highlight the rich history of our organization but also amplify our mission to empower women and effect positive change.
I extend my heartfelt appreciation to each and every one of you for your unwavering dedication, passion, and commitment to our cause. It is your tireless efforts that have made the Junior League of San Antonio a force for good in our community. Your boundless enthusiasm and selflessness continue to inspire me and those around you.
As we embark on this incredible journey together, let us cherish the memories, embrace the challenges, and seize the opportunities that lie before us. With the same spirit that guided our founders a century ago, let us work hand in hand, ensuring that the Junior League of San Antonio remains a beacon of hope, compassion, and progress for generations to come.
Here's to the next 100 years of making a difference!
In Service, 

Rachel Briseño Bruno
2023-2024 President