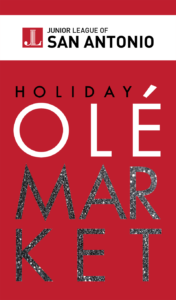 Event Information | Sponsors | Prospective Merchants
Join us October 20-23, 2022 for Holiday Olé Market at the Shrine Auditorium!
Prospective Merchants
We are currently seeking merchants to join us at the 2022 Holiday Olé Market.
Existing/Previous Merchants will access the Merchants Corner (Merchant home profile page) by visiting https://members.jlsa.org/?nd=ole22_merchant_application222

You will be directed to login to your merchant account. If you forgot your password, please click the "forgot password" tab to resolve this issue.
New (Prospect) Merchants you need to create an account in our system by clicking this link: http://members.jlsa.org/?nd=generic_merchant_application

Upon approval, you will begin to login to the Merchant's Corner.
After a New (Prospect) Merchant has created an account, you will receive the following email: Thank you for registering with the Merchant's Corner portion of the Junior League of San Antonio's website. You will receive an email with 72 business hours activating your account.
Once activated, your merchant account will allow you to apply for the Holiday Olé Market, as well as other future fundraising events all without ever having to re-enter your information.
Event Information
Holiday Olé Market is a four-day shopping fundraiser showcasing regional and national merchants. Find the latest in fashion, beauty, home décor, unique gifts and holiday merchandise.
Ready to shop? Purchase your tickets NOW!
Donate
Donate now to the 2022-2023 Holiday Olé Market!
Donating to the Junior League of San Antonio directly supports our mission by funding community partners, placement activities and member training opportunities. When you invest in the Junior League, we are able to expand your giving dollars by putting trained volunteers in areas of need to strengthen the communities we live in.
Contact
General Questions: ole@jlsa.org
Merchants: olemerchant@jlsa.org
Sponsors: Contact Junior League of San Antonio, Inc. at (210) 225-1861
Sponsor
If you are interested in being a sponsor for next year's Holiday Olé Market or learning more about this exciting fundraiser, please visit our Sponsorship page or email ole@jlsa.org.