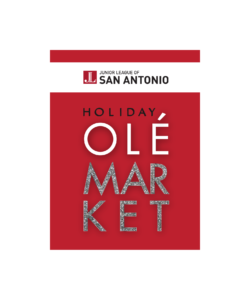 Event Information | Prospective Merchants | Reminders
Event Information
Save the date to celebrate our 25th anniversary for Holiday Olé Market. October 28-31, 2021 at Shrine Auditorium. Continue to check back to this page for future updates or email us at ole@jlsa.org for any questions!
The Holiday Olé committee is excited to announce that applications for the Holiday Olé Market are now live.
Prospective Merchants
Existing/Previous Merchants will access the Merchant's Corner (Merchant home profile page) here.
You will be directed to login to your merchant account. If you forgot your password, please click the "forgot password" tab to resolve this issue.
New (Prospect) Merchants will need to create an account in our system here.
Once approved, you will begin to login to the Merchant's Corner.
After a new (prospect) merchant has created an account, you will receive the following email: Thank you for registering with the Merchant's Corner portion of the Junior League of San Antonio's website. You will receive an email with 72 business hours activating your account.
Once activated, your merchant account will allow you to apply for the Holiday Olé Market, as well as other future fundraising events all without ever having to re-enter to your information.
Reminders
You are required to submit photos of your booth or store display and merchandise. If you do not submit both photos of your store or booth display and merchandise, your application will NOT be considered for acceptance. We need a total of ten photos of your merchandise and store or booth display to be considered for our show. Please upload three below. The other seven need to be uploaded in the "2021 Merchant Jury Photos" form under your Merchant Profile.
Submission of an application does not guarantee acceptance in the show as space in each category (women's clothing, jewelry, home goods, etc.) is limited. The deadline for the application and ten photo submissions will be August 31, 2021 at 11:59 p.m. Applications received after the submission deadline will be placed on the waitlist and will be considered after regular placement is complete.
For more information, please email us at Olemerchant@jlsa.org or ole@jlsa.org. If you prefer to speak by phone, please send an email with your name, number, and inquiry. We will get back to you within 48 hours.