1994-95 Volunteer Extraordinaire
Mrs. Tookie Spoor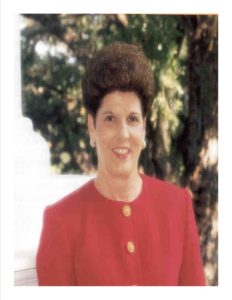 This Volunteer Extraordinaire needs little introduction to anyone who has lived in San Antonio for any length of time. A very energetic, dedicated woman, Tookie has given her time and energy to many organizations and charities.  The Junior League was fortunate that Winifred Cocke proposed her name for membership some twenty years ago.
Tookie is originally from Galveston, Texas and was "B.O.I"  an important distinction when one is from Galveston meaning, "Born on the Island".  Her nickname was given to her by her father when she was an infant, and it has stayed with her all her life.  Her given name is Martha Louise.  She attended the University of Texas in Austin and received her degree in Education.  She met her husband, David, during her years in Austin.  They married when Tookie was twenty-one and David was in his first year of Law School.  After David finished Law School they moved to San Antonio.  They have lived here ever since.  They have three children; Stephen, Susan and Martha Louise.
Tookie remembers her Provisional year as a waitress at The Bright Shawl.  She always worked on Wednesdays when there were style shows, and she enjoyed the placement so much that she signed up for one more year.  Her next placement became a long, rewarding chapter in her life.  The Heart Association came to the Junior League and wanted to start a program where volunteers would teach CPR (Cardio Pulmonary Resuscitation) in schools.  Tookie was interested and took on the task.  Not only did she sign up to be a volunteer, she wrote the program, trained the volunteers, and acted as liaison in coordinating the schools and working with the Heart Association.  This take-charge dedication does not surprise anyone who knows her.  The placement lasted three years, but Tookie worked in this important program for fourteen years!
At first it was difficult to get the school districts to agree to adopt the program, but soon Tookie had volunteers teaching in health classes in Alamo Heights, Northeast and Northside School Districts.  She expanded the program to involve not only League volunteers but women outside the League as well.  At one time Tookie remembers having sixty volunteers working in the program.
Her family remembers the fact that Resuscitation Annie dolls lived at the Spoor home.  They are the large dummies carried in a suitcase which are used in the CPR training.  Tookie had to take "Annie" home after each session to be thoroughly cleaned.  Since this commitment spanned many years of her children's' formative years, they felt like the Annie dolls were just part of the family.  Rarely would the silhouette of an Annie doll in a dark hallway or bedroom frighten one of the Spoor children.
During her fourteen years teaching CPR, Tookie had one other Junior League placement.  Always a lover of music and the arts, Tookie joined the Augusta Street Singers.  This was the daytime group and the Sunshine Singers performed in the evenings.  "This may have been one of my most rewarding experiences in the League", Tookie says, "although every experience has been rewarding, The Augusta Street Singers visited all types of living environments for the elderly and she feels that the group really made a difference in the quality of life of those they visited.  Even though most of her professional career in education was geared toward children, Tookie still feels drawn to the needs to the elderly through this experience.
Perhaps the most rewarding "volunteer experience' Tookie has had was in her twelve years on the Alamo Heights School Board.  One of a select group of very dedicated people.  Tookie served as President of the Board twice.  She is known by the entire community for her hard work and dedication to the Board.
One of the issues Tookie feels especially strong about is the offering of Fine Arts to the students.  So, it saddened her when budget cuts forced the Board to cut the Choir from the curriculum.  Tookie was very much opposed to this, so for the next ten years she fought to get the funding back for these programs.  Finally two years ago, the Choral program was reinstated.  Tookie still sings with the Faculty Chair even after stepping down from the Board last year.
Still involved with the Alamo Heights School District, she serves on the Board of Hospice of San Antonio for seven years.  Hospice helps the families of the terminally ill in San Antonio.  During her tenure it became evident that a support group was needed, so Tookie helped to start a support group call Friends of Hospice.  She has served as Program Vice President and President-Elect.
Even with all of these activities, Tookie still finds involvement with the League rewarding and enjoyable.  She has served on the Sustainers Executive Committee as Education & Training Chair and Sustaining Advisor to Community Council.  Recently, Tookie became aware of a need for additional volunteers to register children for immunizations at a booth at the Rummage Sale.  She immediately said, "You girls have so much to do already! Let me organize a group of Sustainers to man that booth for you."  Always the one who could adjust one more thing to her "to do" list, Tookie doesn't hesitate to take on the additional task.