2002-03 Volunteer Extraordinaire
Mrs. Gay Keahey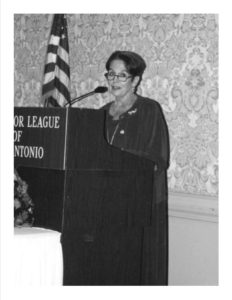 Mrs. Keahey was chosen as our Volunteer Extraordinaire for her creation of the docent program and many years of work at the San Antonio Zoo.
Gay Keahey began the docent program at the Zoo during her Junior League years as an independent placement.  Shortly after it's inception, this became one of the most popular and coveted placements.  Many members waited years to be a docent.
Many members of her family and friends were in attendance to honor Mrs. Keahey.   Her Spanish Club was in attendance as well as many of the docents from the Zoo both past and present.  Reverend DeVries, of Concordia Lutheran, gave the blessing.  Mark Thornton, M.D., President of the Board of Directors of the San Antonio Zoological Society praised Gay's work at the Zoo. Lastly, Gay spoke about the importance of the Zoo and thanked everyone for being there.  A gift was given in Mrs. Keahey's name from the Junior League.
Gay Keahey is a true trailblazer in her volunteer efforts.