2011-12 Volunteer Extraordinaire
Susie Hammond Martin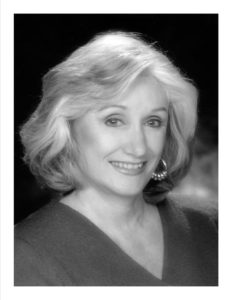 Enthusiasm, sense of humor, love of people and boundless energy – these are words that are characteristically used in describing Susie Hammond Martin.
Congratulations to Susie for being recognized as the Junior League of San Antonio 2012 Volunteer Extraordinaire. Having gracefully served in many capacities while active in the Junior League, she now continues to use her training and expertise for the benefit of our community.
Under her leadership, The Battle of Flowers Association was named Best Volunteer Program in the country at the annual conference of the International Festival Events Association. Since joining The Battle of Flowers Association in 1991, Susie has served as President, chaired the Parade and the Band Festival twice, and was a delegate of the Fiesta San Antonio Commission to the Canary Islands. She served on the Executive Committee of the Commission for six years and is a member of the Order of the Cascaron, an organization honoring outstanding Fiesta volunteers.
A past president of the Military-Civilian Club, Susie continued the warm and friendly relationship which San Antonio enjoys with the military community. She currently serves on the boards of The Charity Ball Association and The San Antonio Botanical Garden Society. She has also contributed great amounts of her time and energy while working in various capacities in the San Antonio Bar Auxiliary, the San Antonio Public Library Foundation Board, the Texas Biomedical Forum, the United Way Allocation Board, the Unicorn Center Board, and the Lantana Garden Club. She enjoys membership in the UT 200 Horns Club, the Fenwick Club and the Forum.
Susie is self-effacing, a master of deflecting the spot-light and volunteers simply because she is needed, while generously encouraging other women to succeed and shine. She was a trailblazer for women in the male-dominated UT Business School and continues to be a guiding force for women in all of her volunteer efforts.
"Love what you do," she says. "Do things with energy." Susie fondly remembers a quote by E.M. Forster that has stayed with her – "One person with passion is better than 40 people who are merely interested." Her service and leadership prove that Susie is never "merely interested." She participates fully and selflessly, reflecting a true passion for voluntarism. She continues to personify the mission and vision of the Junior League of San Antonio.
Susie has been married to Jim, an attorney, for over 40 years. They are proud of their two daughters, Andrea and Alyson, and adore their precious granddaughters, Kaitlin and Elizabeth.