JLSA Through The Years: World War II Efforts
During World War II, the entire country was moved to support war efforts in every way possible to include changes in the labor market, volunteer endeavors, and making sacrifices–all for the good of national unity– and the Junior League of San Antonio was at the forefront of such efforts in our city.
In 1944, JLSA hosted a war loan drive dinner at the St. Anthony Hotel that brought in a total of $4,275,000 in bonds.  Those that attended the sold-out $1,000-plate dinner were entertained by motion picture and radio stars Dick Foote, Gene Autry, and Red Skelton.
During this same time, JLSA donated a Mobile Blood Unit to the Red Cross to assist with blood drives.  This was the first mobile unit in Bexar County and could process 160 people per day, and carried 12 beds, 5 tables, and laboratory equipment.  Several JLSA members assisted the Red Cross by filling many of its needs as staff assistants, nurse's aides, and Motor Corps volunteers.  League members also helped recruit other women to assist at the convalescent hospital at Fort Sam Houston and served as medical technicians in the Women's Army Corps.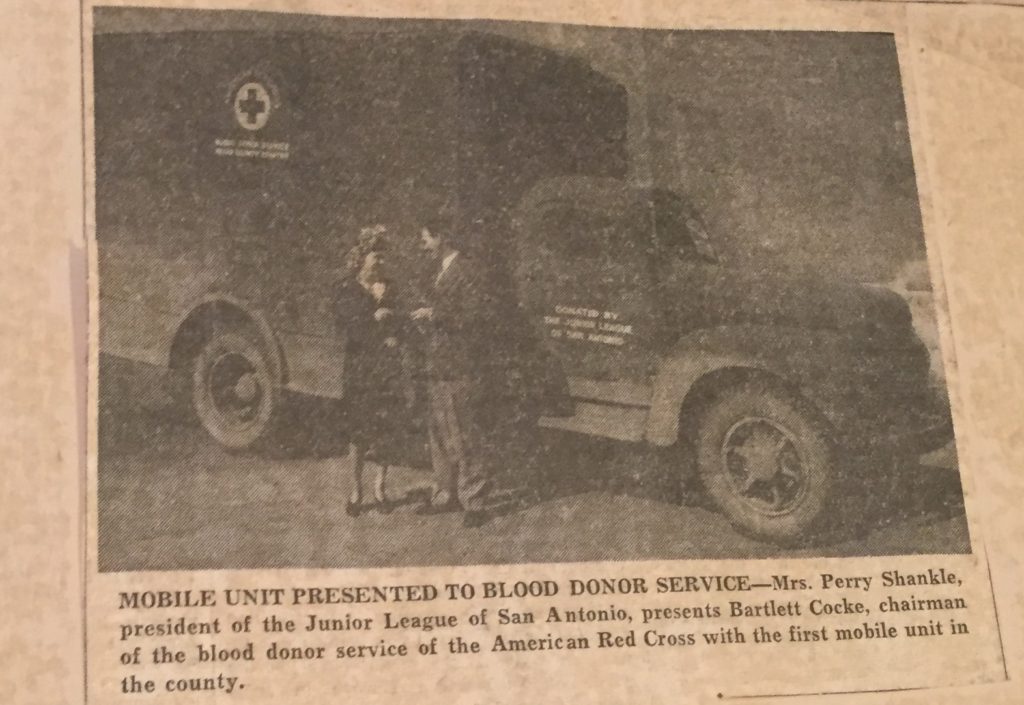 In 1945, JLSA used over $2,000 from its annual Rummage Sale to fund rehabilitation programs specifically dedicated to servicemen at the Brooke General Hospital.  The League also furnished a telephone and lounge room for patients, and hosted parties at the camp with food, entertainment, and company.  Some lucky soldiers were awarded with a telephone call home for the Christmas holidays.  In addition, League members beautified an outdoor recreation garden for the convalescent cadets.
JLSA is thankful for the all the dedication and sacrifices our military personnel and their families made durning this time and are proud to have played a vital role on the home front.
By Chala Cripps McDonald, 2017-2018 Historian